Research at the University of Chicago has uncovered new information about the molecular structure of liquid crystals when the crystals interact with air. This information will improve designs of liquid crystal sensors and displays.
"Liquid crystals are high-fidelity reporters of molecular events, and their effectiveness relies on controlling their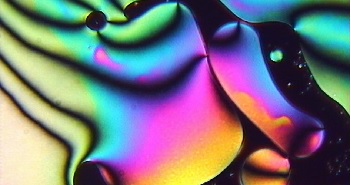 Nemetic-phase liquid crystals. Credit: Wikimedia Commons molecular orientation at an interface," said lead researcher Juan de Pablo of the University of Chicago.
Liquid crystals exhibit characteristics of both liquids and solids. Their molecules have a rod-like structure that can take on different configurations. Thermoptropic liquid crystals change configurations in response to temperature changes. In the commonly-observed nemetic phase, rod-like crystal molecules align in parallel. In lower temperatures, smetic-phase molecules align in layers.
De Pablo's team generated a precise understanding of the liquid crystal-air interface. In particular, the interface imposes a highly-ordered structure which propagates into the liquid crystal. This reaction occurs in both the nemetic and smetic phases.
The research team plans additional study on the liquid crystal-aqueous electrolyte interface