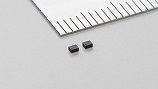 Murata Manufacturing Co., Ltd. has released a SAW filter (1.1 x 0.9 mm) for Wi-Fi (ISM2.4GHz*2) that achieves greater steepness, insertion reduction and temperature characteristic stability compared to conventional models using the company's new proprietary SAW technology.
Current smartphone and tablet devices require Wi-Fi (ISM2.4GHz) functionality. Band7/30/40/41 and other LTE bands have seen increased use near the 2.4 GHz band in recent times, and with this there are increased calls for Wi-Fi (ISM2.4GHz) filters to come equipped with greater steepness and low insertion loss filter characteristics, in addition to stable temperature characteristics in order to prevent mutual interference with these LTE bands. Providing support for such was difficult with conventional SAW devices, giving competitor company filters based on BAW technology the advantage in this field.

With the application of a proprietary SAW technology (I.H.P. SAW) allowing for the transmission of SAW energy with greater efficiency, Murata has successfully developed a Wi-Fi (ISM2.4GHz) filter with characteristics (steepness, low insertion loss, temperature characteristics) reportedly superior to that provided by conventional BAW technology.
Mass production of the filter will begin June 2017.