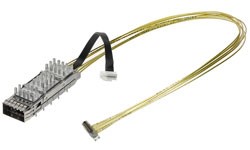 Molex has introduced its BiPass™ I/O and Backplane Cable Assemblies which combine QSFP+, ImpelTM or near-ASIC connectors with thin twinax cables. T'he BiPass I/O and Backplane Assemblies provide a low-insertion-loss alternative to PCB traces capable of meeting 112 Gbps PAM-4 (pulse-amplitutde modulation) protocol.
BiPass Assemblies provide terminated I/O ports that connect via twinax cables to high-density, high-performance near-ASIC connectors in order to maintain the highest level of signal integrity from ASICs to the I/O. The assemblies also use near-ASIC connectors with low stack height for a smaller footprint within trays and panels to overcome space constraints.
BiPass I/O and Backplane Cable Assemblies are ideal for applications in several markets, including data communications, telecom and networking. Assemblies are thoroughly tested, eliminating the need for customers to conduct their own tests, and they can be easily customized to individual front panel configurations according to the needs of specific applications.