With an eye on miniaturizing drone technology to allow a host of new potential applications in the electronics field, engineers at Draper, a not-for-profit research and development vendor, have developed a hybrid drone combining synthetic biology, neurotechnology and mini navigation to guide dragonfly insects.
Resembling a backpack for a dragonfly, the project would create a new kind of micro-aerial vehicle that's smaller, lighter and stealthier than anything else that's manmade, according to Draper. "This system pushes the boundaries of energy harvesting, motion sensing, algorithms, miniaturization and optogenetics, all in a system small enough for an insect to wear," said Jesse J. Wheeler, biomedical engineer at Draper.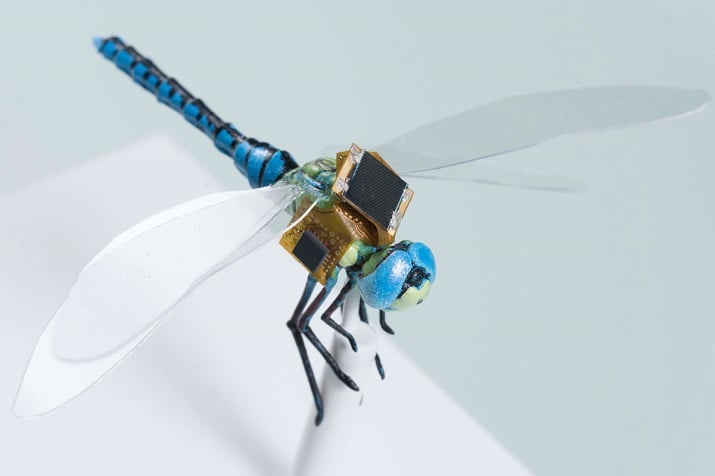 This mini backpack could send commands to dragonflies to perform a number of different applications normal drones would be unable to perform. Source: Draper Dubbed DragonflEye, Draper said the project is already showing promise as a way to guide the flightpath of dragonflies. Applications that could result from this research include guided pollination, payload delivery, reconnaissance and even precision medicine and diagnostics.
Working with Howard Hughes Medical Institute (HHMI), Draper created new optogenetic tools to send guidance commands from the backpack to special neurons inside the dragonfly nerve cord for steering of the insect. Research into these tools led to a better understanding of steering neurons in the nervous system that control flight in dragonflies. Engineers were able to make these neurons sensitive to light by inserting genes similar to those naturally found in the eye.
Because traditional optical fibers are too stiff to be wrapped around a tiny dragonfly's nerve cord, Draper developed flexible optrodes (tiny optical structures) that can bend light around sub-millimeter turns. This allows for precise and targeted neural activation without disrupting the thousands of nearby neurons, according to Draper.
"Someday these same tools could advance medical treatments in humans, resulting in more effective therapies with fewer side effects," Wheeler said. "Our flexible optrode technology provides a new solution to enable miniaturized diagnostics, safely access smaller neural targets and deliver higher precision therapies."
Draper believes this research could be used to help stem the loss of pollinators, like honeybees -- whose population has decreased by half in the last 25 years -- by monitoring their flight patterns, migration and overall health.