Samsung SDI has introduced at the North American International Auto Show (NAIAS), taking place this week in Detroit, a high-energy density battery cell that allows electric vehicles (EVs) the ability to drive 310 miles on a fast charge of about 20 minutes.
The EV battery has a total range of more than 370 miles on a full charge but in just 20 minutes at 80% capacity, drivers can go 310 miles. Samsung says this will allow recharging stations positioned at highway rest areas or other locations to cure range anxiety among EV drivers. The advancement in batteries was accomplished by vastly decreasing the resistance inside a battery cell.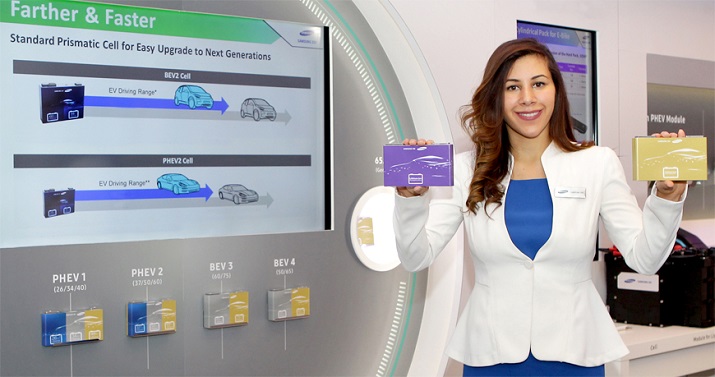 Samsung's battery concept was achieved by vastly decreasing the resistance inside a battery cell. Source: Samsung Mass production of the batteries is expected to begin in 2021.
Samsung has also introduced an integrated battery module that decreases the components used and the overall weight by 10% compared to current EV batteries. The battery cells have more than 24 cells with a higher capacity of 6 to 8 kWh compared to current EV battery modules that consist of 12 cells with a capacity of 2 to 3kWh.
Samsung says the integrated battery module is larger in size but higher in safety because of an advanced electro-mechanical design that has been applied. The Korean electronics giant believes the module will be a boon in electro mobility as it is lighter with fewer components. With an improved range, higher efficiency and user convenience, Samsung is aiming to accelerate adoption of electric vehicles in the market.
Last year, Samsung began construction of an automotive battery factory located in Hungary in order to provide a higher volume of automotive batteries in proximity of major automotive markets. Samsung also has battery factories in Korea and China in order to meet demand as EVs gain in popularity.