Graphene, a two-dimensional form of carbon, is already one of the lightest and strongest of all known materials. A team of researchers at Massachusetts Institute of Technology (MIT) has now compressed and fused graphene flakes to create new, 3D material that is 10 times the strength of steel with five percent of the density -- leading to a super strong, ultralight material with a number of possible practical applications. While two-dimensional materials like graphene are super thin and possess unique electrical conductivity properties, they are not practical for creating real-world structures.

3D Printing Makes It Possible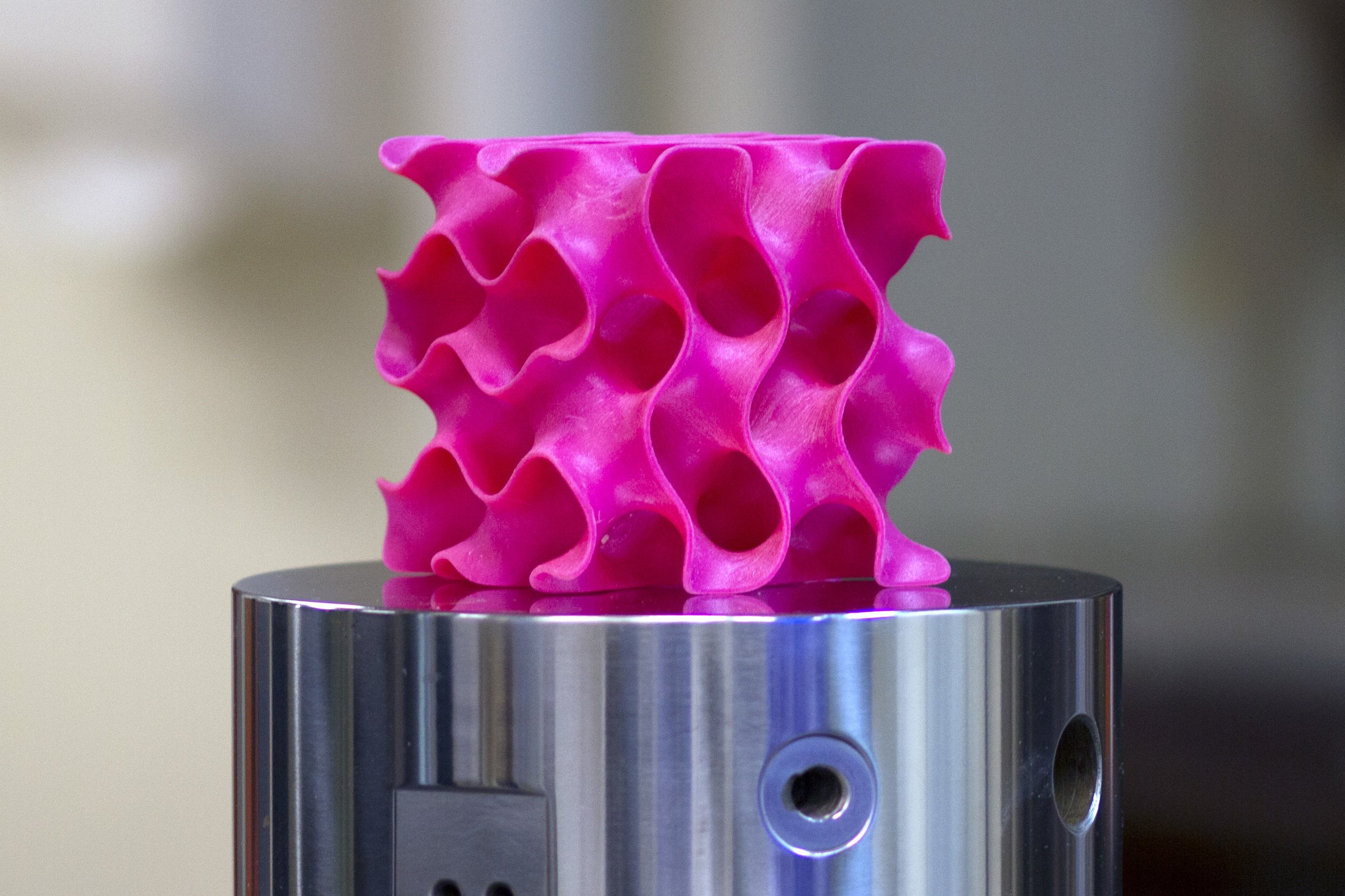 3-D-printed gyroid models were used to test the strength and mechanical properties of a new, lightweight material. / Image credit: Melanie Gonick , MIT The research team compressed graphene flakes by applying heat and pressure to create a strong and stable structure similar to coral. The shapes, known as gyroids, are round and full of holes. The team then used a high-resolution, multi-material 3D printer to create a variety of 3D models, enlarged to thousands of times their natural size in order to show the intricate inner detail of the gyroids. The team tested these models for tensile and compressive properties and discovered the results from the computational simulations and the real-world experiments matched.

The Geometry Is the Key

The findings are published in the Science Advances journal in a paper by Markus Buehler, the head of MIT's Department of Civil and Environmental Engineering (CEE) and the McAfee professor of engineering, Zhao Qin, a CEE research scientist, Gang Seob Jung, a graduate student and Min Jeong Kang Meng, a recent graduate. That paper provides telling insight into other 3D forms. Researchers discovered that the strength and light weight of the new material has more to do with its unusual geometric configuration rather than the characteristics of the source material. This means other strong, lightweight materials could be created from materials besides graphene.

"You could either use the real graphene material or use the geometry we discovered with other materials, like polymers or metals," said Buehler. "The geometry is the dominant factor."
Practical Applications for Super-Strong, Lightweight Materials

Using materials other than graphene to create such structures could provide similar advantages of strength, adding cost-savings and ease of processing. For instance, concrete formed with this porous geometry could be used to build super-strong bridges or even tornado-proof housing. Materials could be formed for water filtration or chemical processing applications.

The research was supported by the Office of Naval Research, the Department of Defense Multidisciplinary University Research Initiative and BASF-North American Center for Research on Advanced Materials.