Volvo Cars and Microsoft are teaming up to bring Skype to Volvo's 90 Series of cars, the first time the platform will be offered in vehicles.
Volvo says the in-car connectivity of Skype will allow business people to join a conference call or talk to family members during a morning commute without having to fumble for a smartphone. Skype for Business allows people in vehicles to view their upcoming meetings and participant details, and join meetings with one click via the large center display.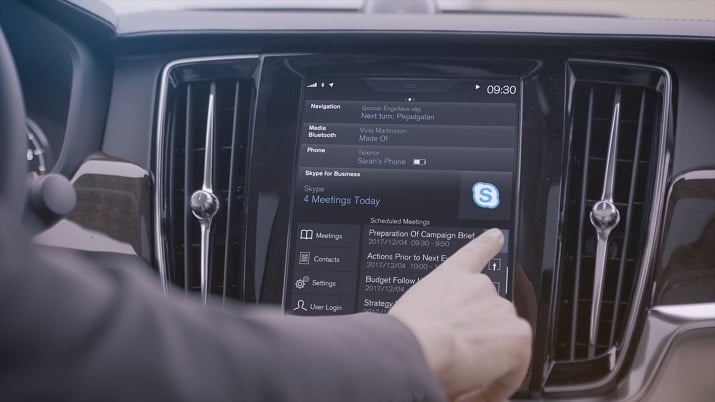 Skype for Business will be added to the 90 Series of Volvo cars giving drivers a new way to connect to meetings while on the go. Source: Volvo "Skype for Business represents another big step forward for our in-car connectivity and communication offer," says Anders Tylman-Mikiewicz, vice president of Consumer Connectivity Services at Volvo Car Group. "With the dawn of autonomous cars, we see a future where flexible in-car productivity tools will enable people to reduce time spent in the office. This is just the beginning of a completely new way of looking at how we spend time in the car."
The agreement will also explore the use of Cortana, Microsoft's intelligent personal assistant, in vehicles, with the intent of adding voice recognition and contextual insights to support drivers' daily lives.
Volvo says it wants to continue its in-car connectivity plans, which have included hands-free functionality through Bluetooth and built-in handsets in the 1980s. At the same time, the company wants to minimize driver distraction, and this is a natural evolution to the next generation with Skype.