In an unusual show of agility, semiconductor manufacturers dramatically lowered their inventory levels in the fourth quarter of 2012 following a worrisome buildup in the third quarter.
"Semiconductor companies reduced their inventories at a faster-than-expected rate in the fourth quarter as they moved to adjust to weakening demand," said Sharon Stiefel, analyst for semiconductor market intelligence at IHS.
Days of Inventory for semiconductor suppliers in the fourth quarter declined by 5 percent compared to the third quarter—higher than the 1.5 percent initially forecast, according to IHS. Meanwhile, inventory value in dollar terms fell almost 5 percent—larger than the originally projected 3 percent.
The semiconductor market historically hasn't been known for rapidly adjusting to swings in demand. The market typically takes six months or longer to siphon off built up inventory. But this time around, leading chip companies acted aggressively to reduce inventories at the end of 2012, Stifel said.
AMD and STMicroelectronics also experienced large inventory declines of $182 million and $131 million, respectively, or 25 percent and 9 percent. In the case of AMD, inventory shrank for its microprocessors as a result of an amended wafer supply agreement with GlobalFoundries for reduced stockpiles. For its part, STMicroelectronics cut utilization rates after exiting its money-losing joint venture with Ericsson.
Two other chip suppliers had notable inventory drawdowns: Texas Instruments, down $91 million, or 5 percent, due to weak end-market demand for its chips; and ON Semiconductor, down $63 million, or 10 percent, as it burned bridge inventory and coped with reduced revenue.
"Many chip suppliers demonstrated great agility in their reactions to the drop in demand," Stifel said. "The number one semiconductor supplier Intel Corp. was the most aggressive, cutting its stockpiles by more than half a billion dollars—the largest decrease on a dollar basis of any chipmaker."
In addition to cutting its inventory in Q4, Intel reduced production as it migrated to a new process technology: 14-nanometer lithography.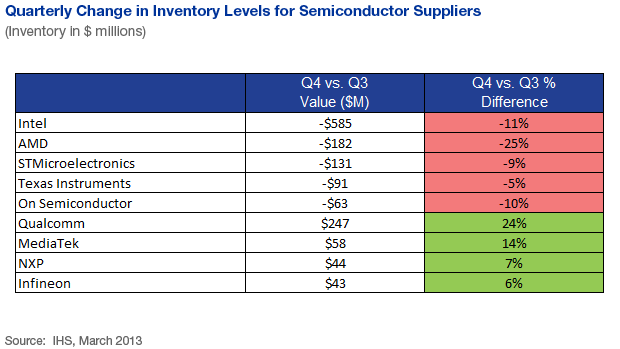 Among inventory gainers, most faulted low seasonality and an uncertain global economy for a rise in chip stockpiles. Companies in this group included MediaTek, up $58 million or 14 percent; NXP Semiconductors, up $44 million or 7 percent; and Infineon Technologies, up $43 million or 6 percent.
The one exception among gainers that could boast of a strong performance linked to an increase in chip inventory was Qualcomm, up $247 million or 24 percent. Given the strong market acceptance of its wireless chips in products like the Apple iPhone and iPad, Qualcomm ramped up production and inventories in Q4 in order to meet demand.