Technology has produced amazing advances in recent years. The computer infrastructure that launched the astronauts to the moon looks ludicrous by today's standards. Some projections into the far future from classic science fiction authors or the original Star Trek series seem like old hat, while others—like holography and robotics—remain tantalizingly out of reach. Despite our best efforts, we have yet to solve some of society's most basic problems. Doing so will require a paradigm shift that combines science, engineering, economics and (perish the thought) business concerns.
Initiating a new paradigm requires clearly understanding its purpose and goals. With that in mind, about 10 years ago the U.S. National Science Foundation requested that the U.S. National Academy of Engineering (NAE) convene a panel of dedicated experts to identify the challenges that engineers worldwide must face to sustain life on our fragile planet. In 2008 the panel issued its report, outlining 14 so-called Grand Challenges (see an introductory video here). At the NAE's 2016 annual meeting, President C. D. Mote, Jr., described them as "the first engineering vision for the planet that mandates global perspectives." The Global Grand Challenges Summit was established to engage high-level international experts in a conversation about how to address the challenges on a global scale. As part of that effort, and to bring the challenges to the next generation, the NAE, along with the Chinese Academy of Engineering and the Royal Academy of Engineering (U.K.), created a student competition, where teams of up to six undergraduates and two mentors create business models and compete for the opportunity to develop them into real startup companies. Finals in the current competition will take place the day before the summit itself, in July, 2017, in Washington, DC.
Here, we highlight five of the Grand Challenges that provide a taste of the scope of the task ahead.
Making Solar Energy Economical
Despite all of our recent advances, 41% of all electricity worldwide (as of 2013) still comes from coal, with much of the rest from oil and natural gas. However much we may pretend otherwise, our current supply of these fuels will not last forever. In addition, they contribute significantly to both pollution and climate change. Renewable sources currently represent barely 1% of the total.

A dish system collects energy from the sun and concentrates it, transferring the resulting heat to a generator. (Source: NAE)
In contrast, energy from the sun far exceeds any amount that we need. It is clean; it is free; and everyone on the planet has access to it. It does, however, have one big drawback. The sun does not shine all the time. We need ways to store the energy to use at night and on cloudy days to make up the difference. Storage can involve using the sun's energy to pump water uphill for later retrieval as hydroelectric power. We can also generate electricity directly from sunlight using photovoltaic cells, whose efficiencies have improved substantially in the past few years to nearly 40%, with batteries providing storage. But solar energy still costs five to six times as much as electricity from other sources. The challenge remains to reduce those costs so that it can compete and allow distribution everywhere.
Enhance Virtual Reality
Most people regard virtual reality (VR) as a toy—good for games, but with few other practical applications. Yet VR can provide a powerful educational tool. It allows architects to walk through structures that they have not yet built. Pilots training on a Boeing 777 can learn to deal with adverse weather and other emergencies without risking damage to people or property, and doctors can learn a new surgical technique without harming a real patient. The use of VR can also turn webinars and video conferencing into a much more immersive experience by giving participants a sense that they are interacting with colleagues in the same room. Virtual reality has already helped psychiatrists to fight patients' phobias, such as fear of heights and fear of public speaking, and has helped veterans to recover from PTSD.
The next generation of VR will bring football games and rock concerts into your living room and give you a seat on the latest probe to the planet Jupiter. Getting there, however, will require advances such as higher-resolution video displays and a field of view wide enough to reinforce the illusion that the scene in front of the user has substance.
Secure Cyberspace
Perhaps the most contentious of the Grand Challenges, securing cyberspace is a known danger with few solutions, none of them remotely perfect. The entire communications infrastructure remains vulnerable to a wide variety of localized and globalized attacks. An attack on a GPS satellite or hurricane early-warning system, for example, would knock out an information infrastructure on which we all rely. Even a one-day shutdown of the Internet would cause a wave of inconveniences, if not destruction.
The state of cyberspace security today relies on a collection of unreliable pieces. However you secure your system, a single person who shares (or steals) a valid authentication can undo the most sophisticated of protections. Identity theft and other cybercrime make our connected world much less safe. We need more secure software, certainly. But how do you mandate that computer users engage in only the most secure behaviors while interacting with the vastness of cyberspace? This Grand Challenge requires discovering the questions we have to ask before beginning to look for the answers
Advanced Health Informatics
Collecting health data in real-time allows evaluating individual patients more thoroughly. With real-time monitoring, more elderly or infirm patients can live independently, knowing that health workers can respond quickly if the data indicate an adverse situation. In addition, analyzing aggregated data will reveal trends covering entire populations, such as the spread of an epidemic.
Unfortunately, medical records still suffer from incompatibility from one doctor's practice to another. Many systems for maintaining such records cannot communicate with one another, and many of them remain on paper. Scanning paper records offers a flawed solution at best. In addition to the time required, unless someone examines each scanned file created to ensure its legibility, there is no guarantee that it will supply the necessary information when called upon to do so. And the ever-present concern over data privacy and security will require a comprehensive solution.
Engineering the Tools of Scientific Discovery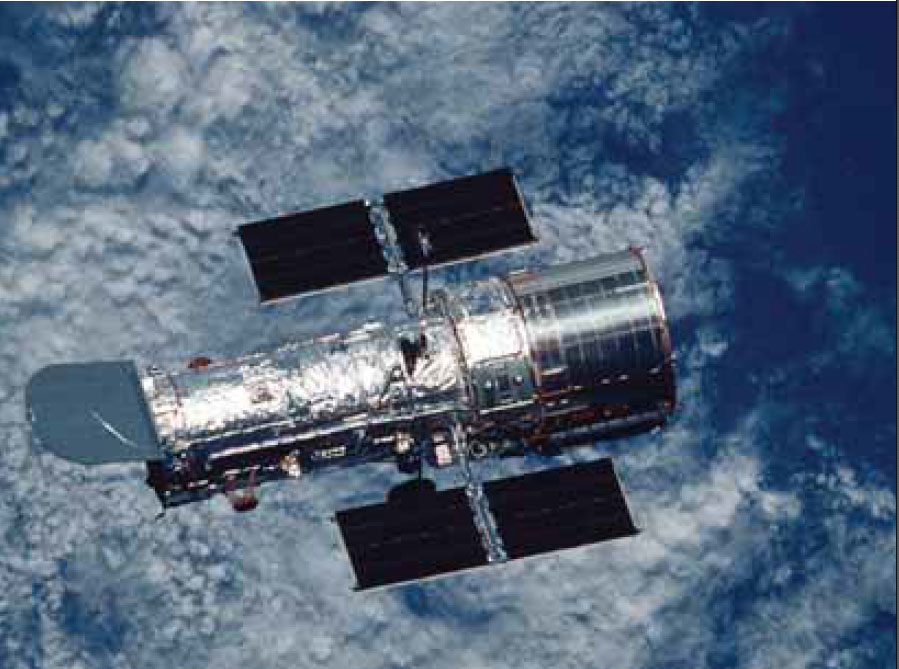 The Hubble telescope has allowed us to explore the cosmos as never before. Engineers will seek to devise even more sophisticated tools to uncover scientific mysteries. (Source: NAE)
When Archimedes lowered himself into the bath and realized that he could easily determine if the king's crown was made of pure gold, he did not need fancy instruments to convince him. But astronomers who want to look into deep space to find out what the universe looks like require extremely sophisticated tools. We need to learn how to build those tools and to find solutions when, for example, engineers discover that the $1 billion Hubble telescope—the culmination of decades of design and execution—will not give us the image quality we expect because of a flaw. In that case the Hubble needed only a pair of glasses, but repairing it in space represented a monumental undertaking and the invention of a host of new tools. That, too, provides a considerable challenge.