Looking to improve conductivity in electronics, engineers from the University of California, San Diego (UCSD), have developed what they claim is the first semiconductor-free optically controlled microelectronic device.
Conventional microelectronics rely on semiconductors for conductivity. However this can impose limits on a device's conductivity. Because semiconductors have a band gap, which requires a boost of external energy to get electrons to flow through them, velocity is limited as they are constantly colliding with atoms as they flow through the semiconductor, UCSD says.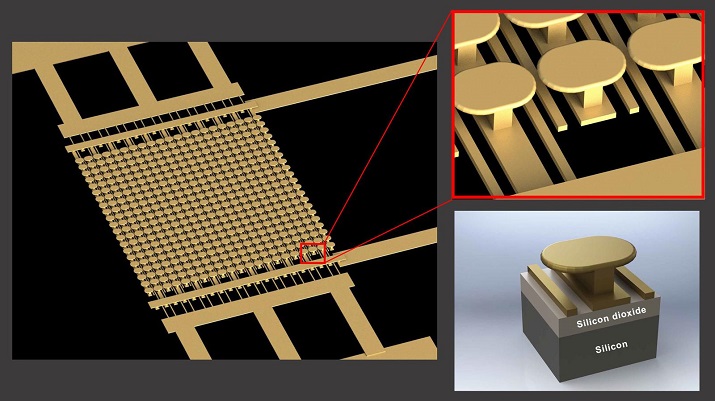 The semiconductor-free microelectronics device fabricated by the University of California, San Diego. Source: UCSD Instead of using semiconductors, UCSD used metamaterials that operate as free electrons in space similar to old vacuum tubes, but at a nanoscale level, in order to build the device that shows a 1,000% increase in conductivity when activated by low voltage and a low-power laser.
Such an implementation may be a key to developing semiconductor-free switches, transistors, photo detectors or even photovoltaic cells in the future that are faster and capable of handling more power than traditional devices.
How They Did It
The engineering team in the Applied Electromagnetics Group at UCSD knew this discovery might lead to big things but first had to extract the electrons from the materials. Liberation of electrons normally requires applying high voltage and high-power lasers, however, this is not practical in nanoscale or microscale devices.
So the engineers went about fabricating a microscale device that could do the job without the use of this equipment. The device consists of an engineered surface, called metasurface, on top of a silicon wafer with a layer of silicon dioxide in-between. The metasurface consists of an array of gold mushroom-like nanostructures on an array of parallel gold strips.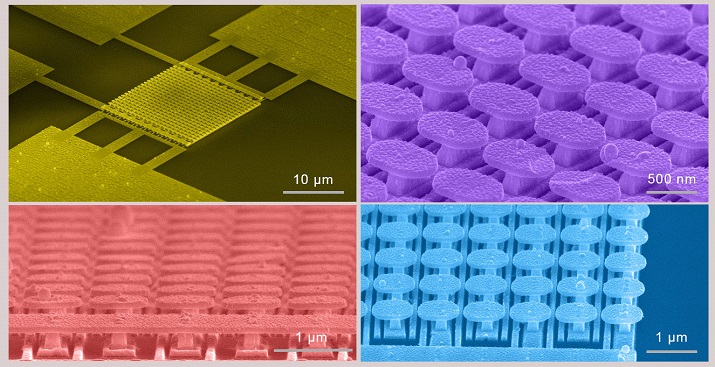 Using a low-level laser and power source, this gold metasurface was key to extracting electrons from the metal. Source: UCSD When a low DC voltage and a low-power infrared laser are applied, the metasurface generates spots with a high-intensity electric field with enough energy to pull electrons out from the metal and let them flow in space.
"This certainly won't replace all semiconductor devices, but it may be the best approach for certain specialty applications, such as very high frequencies or high-power devices," says Dan Sievenpiper, professor of electrical engineering at UCSD.
The next steps will be to include designing and optimizing different metasurfaces for different types of microelectronic devices and exploring other applications for the technology besides electronics, such as photochemistry, photocatalysis, or new solar or environmental applications, UCSD says.