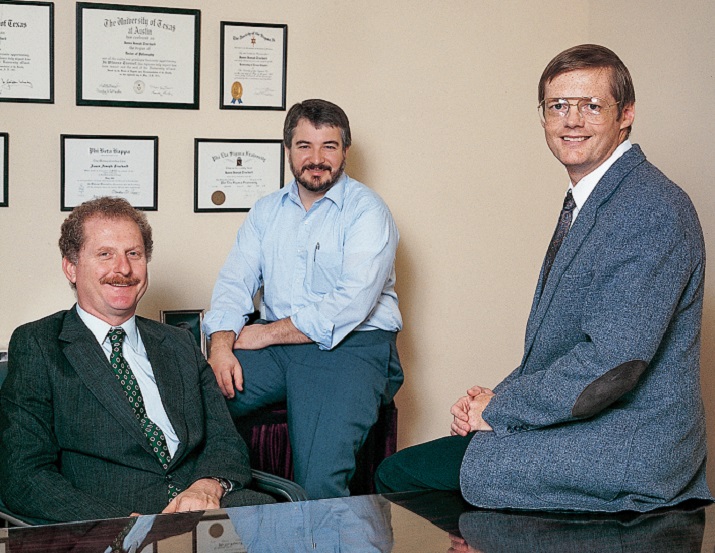 NI founders Dr. James Truchard, Jeff Kodosky and Bill Nowlin, 1989.
After guiding his company to almost uninterrupted success for 40 years, National Instruments (NI) CEO Dr. James Truchard is stepping down, effective January 1, 2017. Under his leadership, the company has grown from a startup with three employees working out of a garage in 1976 to today's $1.2 billion-dollar powerhouse with more than 7,000 employees in more than 50 countries worldwide. Despite its size, under his leadership the company has consistently landed on Fortune 100's list of "Best Places to Work" and has been named one of the top 25 "World's Best Multinational Workplaces" by the Best Places to Work Institute.
Doctor Truchard has always maintained a long-term view. Andrew Lalla, now Director of Sales and Marketing at VOXY CMS, put it this way: "I spent eight years learning from this singular visionary while working at National Instruments, and I believe he is about 30 years ahead of what we can see." In what Lalla calls a "Truchardism," the CEO's business plan for the company covers 100 years. That is not a typo. People may balk at the idea or think he is joking, but the scope of the plan reflects the man. In his own words, Dr. Truchard says, "You can't plan what business you will be in or what products you will sell, but you can plan for the type of culture you want to maintain in 100 years." Doctor Truchard has never lost sight of his long-term goal, simplifying the end-user's job—"improving the world by equipping scientists and engineers with tools that accelerate productivity, innovation and discovery."
To meet that goal, the company strives for tightly integrated hardware and software—so-called virtual instrumentation. Its flagship product, LabVIEW, provides a simple graphical interface to perform complex operations in software and send results to the hardware for execution. To enable communication between two field-programmable gate arrays (FPGAs), for example, an engineer merely draws a line between the two in LabVIEW's circuit representation on the display. Under the hood, staff years of software development convert that simple act into the corresponding hardware instructions.
Cofounder of NI, Jeff Kodosky, put it this way: "Jim has always had the uncanny ability to sense problems and market opportunities. Not just regular "me-too" opportunities, but game-changers, where we get to rewrite the rules. LabVIEW would not have happened without him. He sensed the market need and that it was the right time to expand the scope of our business. Without his evangelism inside and outside the company, and without his perseverance, LabVIEW couldn't have succeeded."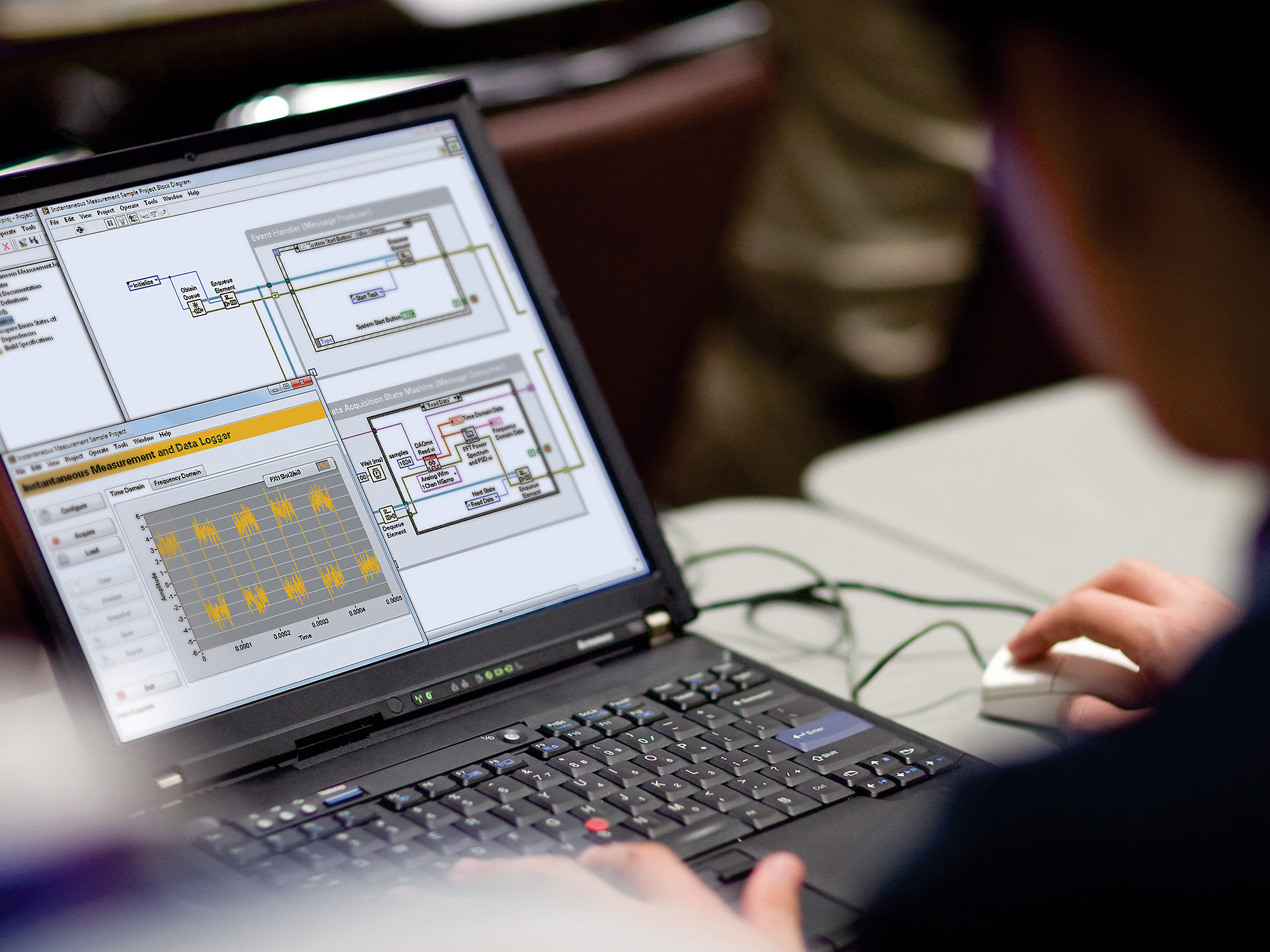 LabVIEW in actionInnovation has never meant keeping up with other companies or adopting the same technologies as everyone else. LabVIEW started as a Mac-only application, because Mac computers offered graphics capability that PCs of that era could not match. On a tradeshow floor, NI's exhibit often included the only Macs, much to the amusement of colleagues and competitors. Although NI continues to support the Mac, the software long ago also embraced both Windows and Linux. Nevertheless that initial decision allowed development years earlier than if it had run on a PC platform from the beginning.
In the same vein, software today increasingly migrates toward touchscreen I/O. When asked if LabVIEW would follow the trend, Shelley Gretlein, NI's vice president of corporate marketing, remarked, "Once you build an application with any of our tools, the human-machine interface absolutely includes touchscreen compatibility. Our EV-3 software has a tablet version of the LabVIEW diagram that is touch- editable. But engineers have made it clear that for developing complex test-and-control programs, they achieve higher productivity with a mouse." Users determine what features they need—and what features they do not need—to do their jobs. The cornerstone of Dr. Truchard's philosophy and the company's most important rule states that the customer's needs come first.
Contrary to a common misperception that LabVIEW requires committing to NI hardware, the software has remained open to anyone wishing to use it. The software works with Python, C#, Raspberry Pi and others.
Usually associated with test-and-measurement applications, Dr. Truchard has engaged in more exotic adventures as well. He contributed to such projects as the Mars rover, plasma fusion research and medical device creation. His work enabled CERN to complete the Large Hadron Collider near Geneva, Switzerland. Companies are using LabVIEW to 3-D-print esophaguses in seven days. LabVIEW has become instrumental in testing the radar on autonomous cars and for defining the new 5G communications standard. As the industry continues to fight over various aspects of 5G, LabVIEW is flexible enough to make adjustments on the fly.
Gretlein said, "He is a unique visionary. Four decades ago, he was able to see that an open-software-centered platform will enable the engineering field. He took advantage of every tool, every technology, empowering really smart people. He was one of the few that called his shot and delivered on it. I'm confident that what he put in place will continue for the next 40 years. That's a legacy I don't think many leaders could leave."
Through it all, Dr. Truchard remains accessible to all members of his team. The man that employees call "Dr. T" still usually wears jeans to work (except when interacting with customers), has no reserved parking space, and works out of a cubicle that anyone can walk into when they need him. In his words, "I see no reason to have a cube different from anybody else's. I'm rarely in there anyway. I'm usually walking around," getting the pulse of the actual work environment firsthand on a day-to-day basis. National Instruments calls that style "sneaker management," after the managers' shoes of choice.
Gretlein learned early on that Dr. T considered no hierarchy in the company. "Ideas don't have an org chart. They can come from an intern, an entry-level engineer, marketing, even from someone working for another company. He considers no job beneath him as long as it proves effective." Working tradeshows does not generally come under the aegis of a company CEO, but that, too, has remained part of his mission. "He arrives first to set up in the morning and leaves last in the evening. NI's products and message energize him to the point where he has to tell the world. He has never lost that excitement."
The board of directors at NI has selected current CFO and COO Alex Davern as the new president and CEO, while Dr. Truchard will remain chair of the board. Davern has worked directly for Dr. T for 20 years, the longest-tenured direct report in the company. They share the same values and the same perspective. Gretlein maintains that the culture will not change under the new management structure. "Alex is not like any other CFO you might meet. He actually has to teach Wall Street because he believes in our 100-year plan. It goes back to the focus on the customer. It's because of the platforms, but it's also because of the culture, that Dr. T single-handedly created."