CIT Relay & Switch, a division of Circuit Interruption Technology, Inc., has introduced the J115F1, J115F2 and J115F3 series relays, with ratings ranging from the 30 A economy (E) version to the robust 50 A heavy-duty version. The rugged J115F Series offers high-dielectric strength (coil to contact) of up to 4,000 Vrms. CIT Relay & Switch offers the robust, high- switching-capacity J115F with TÜV and UL certification. All styles comply with the Reduction of Hazardous Substances requirements.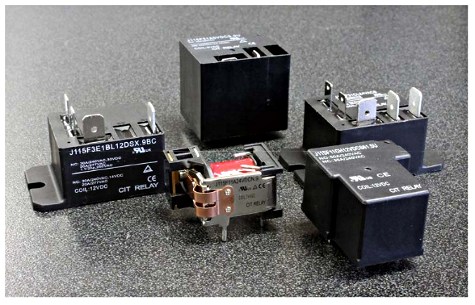 CIT Relay & Switch has launched the J115F series of high-dielectric relays featuring UL and TÜV certification. Image source: CIT Relay & Switch. CIT positions the J115F Series relays as ideal for security, test equipment, telecommunications, instrumentation, automotive, HVAC and motor control, as well as many other industrial applications. Pricing is dependent upon options and volume. Contact CIT Relay & Switch for lead-time information.
For more information about the CIT Relay & Switch J115F Series relays, contact CIT Relay & Switch, 14680 James Road, Rogers, Minnesota, 55374 USA. Phone: 763-535-2339, Fax: 763-535-2194, email: sales@citrelay.com, website: www.citrelay.com.