The simplest analysis for manufacturing a new printed circuit board (PCB) assumes that once you have decided on specifics, including parts, assembly equipment and test equipment during the design phase, you have defined the process. If you distribute your products worldwide, however, you generally want to reduce lead times, delivery times, and labor and other costs by making the products in far-flung locations, each one serving customers from that part of the world. To reduce logistical inefficiencies, this strategy takes advantage of local parts suppliers and other intermediaries. Although valid for a single production line, your initial process model may require modification to encompass both in-house and contract manufacturers, for example, or to include multiple vendors or different strategies (such as inspection in one facility and in-circuit testing in another).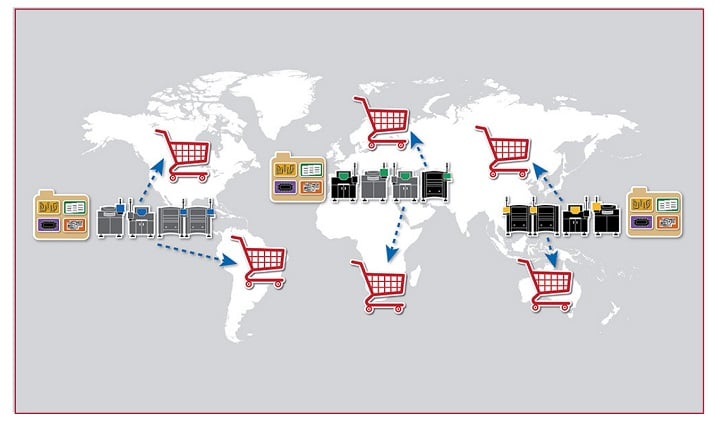 Multiline_Figure_1
Even imposing the most stringent process constraints will not solve the problem. The complexity of most equipment for manufacturing and testing PCBs virtually guarantees that not even allegedly identical machines will perform in exactly the same way. If you develop the process in, say, Austin, Texas, and then ship it to Mexico or Malaysia, variables as fundamental as full production volumes after ramp-up can change the results. Differences can come from issues as minor as temperature and humidity on the manufacturing floor or real disparities—within tolerances—between one machine or device and another. Two bed-of-nails test fixtures, for example, each containing several thousand nodes, may meet specifications, yet incorporate different wire lengths or levels of contact resistance, reducing the test's objective precision. Sending the exact equipment you used during development to the production facility still does not guarantee identical results.
In a new white paper, Mentor Graphics contends that the transition will likely involve changes to stencils, pick-and-place-machine, test, and inspection programs, and work instructions (assembly documentation). Threshold voltages for digital in-circuit tests may differ from device vendor to device vendor. Stage lighting for inspection systems may reveal more or fewer defects, and the systems may need retraining. Any increase in the number of good boards that fail the test will send more of them into the repair and retest loop, increasing the burden at that step. Escapes (bad boards that pass a step) mean catching them later at higher cost. One-on-one remote support from the experts who developed the process to speed the transition becomes more difficult because of time-zone differences. Worse, having an expert travel to the remote site incurs substantial costs and distracts him or her from whatever new project he or she is working on.
How can you minimize the pain of translating your original plan so that it will work elsewhere? If the remote site buys parts from different vendors, you will have to modify the parts library that controls the manufacturing-and-test process to recognize the new parts as acceptable. To avoid that step, you could demand that all manufacturing lines incorporate the same mix of parts and equipment—same vendor, same class. That decision will likely limit your choice of partners; and although it will minimize the scope of the disparities, it will not eliminate the disparities. So it will not eliminate the need to re-qualify the process in each case.
To specifically address this tangle of complications, Mentor Graphics has created a software tool that manages and tracks the changes necessary to bring the processes into agreement. The source location can establish guidelines and specifications to which everyone must conform, while each location customizes those requirements to match local conditions. For example, the software allows creating parts libraries to match a board design and modifying them for site-specific circumstances, dramatically reducing the effort to migrate from one vendor's machine or parts at the development site to another's for production. The originator develops the CAD files and bill of materials, and the software converts the information into neutral specifications that can be adapted by satellite sites. It can even establish "hands-off" areas for a piece of equipment if it has no analog at the other site, and it can create stencil files that a stencil vendor can use directly with a minimum of interaction.
The source article contains an example that walks you through the steps, including involvement of the originating site on the subsequent transition and ramp-up.