TE Connectivity has introduced its Snap-Lug power connector, a ruggedized power connector that enables a dependable and rapid method for interconnecting heavy gauge power cables to bus bars, relays, batteries, power cables, grounding devices and more. The Snap-Lug connector replaces current terminal lugs with a safe, reliable, quick disconnect without the need for a torque wrench, or nuts and washers.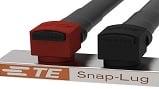 Snap-Lug power connector. Source: TE Connectivity
The Snap-Lug power connectors are used in military ground vehicles, commercial aviation and industrial commercial vehicles. These connectors are color coded and keyed for polarity to help prevent damage from accidental polarity reversal. The design saves time through a snap-on/push-to-release installation feature. The self-locking connector can also withstand high vibrations and extreme temperatures to enable continuous power in harsh environments. The shrouded, isolative design has no exposed metal, enabling a safe connection of power.