The words 'green' and 'synthetic' in the same sentence, would generally be considered an oxymoron. But researchers at the University of Massachusetts Amherst have used synthetic biology to design a new strain of bacteria that spins out ultra-thin, highly conductive wires made of non-toxic, natural amino acids.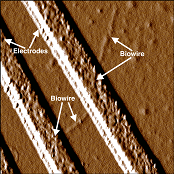 Synthetic biowire making an electrical connection between two electrodes. Source: University of Massachusetts Amherst These so-called biowires are produced from renewable, inexpensive feedstocks and avoid the harsh chemical processes typically employed to produce nanoelectronic materials. They have potential applications in electronic devices, functioning not only as wires, but also transistors and capacitors. Proposed applications include biocompatible sensors, computing devices and solar panel components.
Development began a decade ago when UMass researchers discovered that Geobacter, a common soil microorganism, could produce microbial nanowires, electrically conductive protein filaments that help the microbe grow on the iron minerals abundant in soil. These microbial nanowires were conductive enough for their own needs, but their conductivity was well below that of organic wires that chemists could synthesize.
From there, researchers sought to synthetically improve them, which was accomplished by introducing tryptophan into the design. Tryptophan, a common amino acid notorious for causing drowsiness after we've eaten too much, is also highly effective on a nanoscale level in transporting electrons.
The results greatly exceeded the scientists' expectations. They genetically engineered a strain of Geobacter and manufactured large quantities of the synthetic nanowires 2,000 times more conductive than the natural biological product.
"We were blown away by this result," said lead microbiologist Derek Lovley, noting that the conductivity exceeds that of many types of chemically produced organic nanowires with similar diameters. The extremely thin diameter of 1.5 nanometers, more than 60,000 times thinner than a human hair, means that thousands of the wires can easily be packed into a tiny space.
Although made of protein, the nanowires are extremely durable, contain no toxic components and doesn't need harmful chemicals for synthesis. UMass researchers are now hoping to modify the biowire in order to expand its potential applications.