Soft robots are quite popular among engineers these days. At Rutgers University, engineers are working on small and squishy robotic vehicles capable of navigating rough terrain and even functioning underwater.
A vehicle of this nature would require other functional, soft robotic parts, though – like motors and wheels.
And that's just what the engineers came up with – a soft motor that provides torque without bending or extending its housing.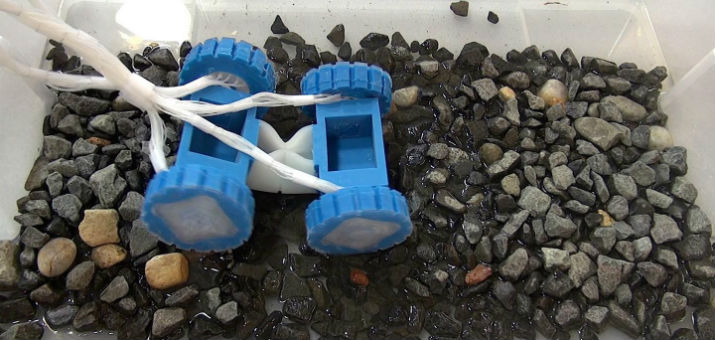 A soft four-wheeled robotic vehicle powered by a unique soft engine developed by Rutgers University engineers. (image Credit: Xiangyu Gong)
"The introduction of a wheel and axle assembly in soft robotics should enable vast improvement in the manipulation and mobility of devices," said Aaron D. Mazzeo, assistant professor in the Department of Mechanical and Aerospace Engineering, who co-authored the study.
According to Mazzeo, the motor's ability to rotate without bending, though quite simple, is believed to be an advantage for soft robots in the future.
Along with a soft motor, the team developed a unique wheel and axle configuration not found in nature. The wheels operate using peristalsis, the biological process that's used to push food to the stomach through the esophagus.
The motor, which was made using 3D-printed molds and soft lithography, is soft and metal-free, so it's suitable for harsh environments with electromagnetic fields.
During testing the soft robotic vehicle, comprised of a silicone rubber 1 million times softer than aluminum, was able to survive falls eight times its own height.
"If you build a robot or vehicle with hard components, you have to have many sophisticated joints so the whole body can handle complex or rocky terrain," said Xiangyu Gong, lead author, who earned a master's degree in mechanical engineering at Rutgers in 2015. "For us, the whole design is very simple, but it works very well because the whole body is soft and can negotiate complex terrain."
A multi-purpose vehicle of this nature could one day be used in search and rescue missions after disasters, deep space and planet exploration, and even for manipulating objects during magnetic resonance imaging (MRI).
"We think these robots also would be useful for working around children or animals, and you could envision them being helpful in hospitals," said Mazzeo. "There are opportunities also for toys and for creating educational science or engineering kits."