A new study from Intel Security points to collaboration as a key factor in preventing or responding to cyber security attacks.
Respondents of a survey including 565 security decision makers worldwide shows that enterprises believe they could be 38% to 100% more effective at preparing for cyberattacks and how they would respond to such attacks if the personnel and systems already in place could simply collaborate better. Through collaboration, the survey finds companies could not only improve security effectiveness but also overcome the growing shortage of skilled cybersecurity professionals.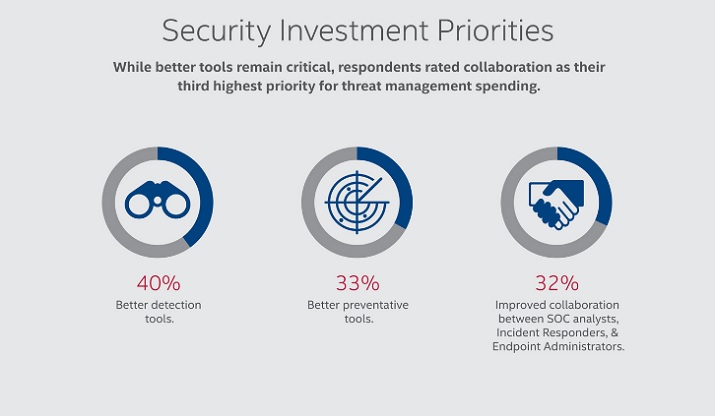 Better tools for detection and prevention are needed, however, collaboration among analysts, responders and administrators was viewed as a top need. Source: Intel While better detection and prevention tools remained the top priority among respondents of the survey, collaboration ranked as the third-highest priority on threat management spending.
By working together and with other vendors, companies can gain insight into attacks earlier, produce fewer errors through data sharing, validate decisions from multiple sources and receive clearer guidance on the correct actions to take to deal with a cyberattack, the survey found. Furthermore, through good communication, transparency and accountability, the people already in place to defend against attacks can produce higher levels of incident management.
Survey respondents say they are willing to automate or semi-automate many of the tasks they used to perform manually in order to help against cyberattacks. Automated tasks that could be carried out include clearing of browsers/cache, malware sandbox submission, killing unneeded processes and stopping or starting a Windows service. Semi-automated tasks that could be accomplished include cross-product quarantine systems, restoring files and deleting backdoor accounts.
To contact the author of this article, email engineering360editors@ihs.com