The challenge with using discrete power devices—whether MOSFETs, IGBTs, Bipolar, GaN or others—is that these high-performance components need significant support along with careful attention to their design-in details. They need the appropriate drive circuitry to provide the carefully tailored signals needed to turn them on and off properly; they need components to assure they stay within their SOA (safe operating area); and they need components on their output side to protect against faults at the load, such as short circuits. The problem is aggravated when the design engineer wants to use a newer power-device technology for which there is less design-in understanding or exposure to subtleties based on historical experience.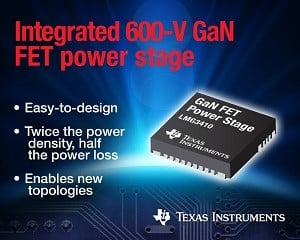 Image source: Texas Instruments

That's where the LMG3410 single-channel GaN Power Stage from Texas Instruments (TI) can help. This module targets high-performance power-conversion applications where switching performance and fault protection are important, such as server and telecom AC/DC supplies, rack-mount server DC-power distribution, solar inverters and motor drives.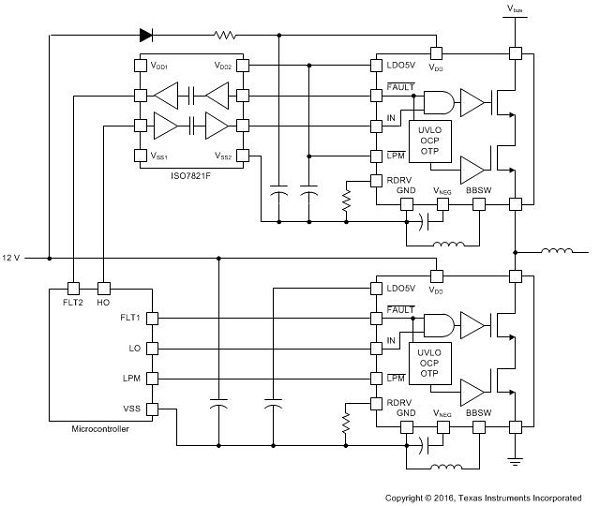 The power stage contains nearly all the peripheral features and functions needed for a complete GaN-based module. Image source: Texas Instruments

It integrates the FET driver with the series MOSFET, achieving superior switching performance combined with an easy-to-use logic-level input. See Figure. The drive-signal strength of the LMG3410 is adjustable via a single external resistor to provide in-system setting of slew rate, essential for optimizing performance and minimizing EMI across a range of switching frequencies. The drive-signal strength is externally adjustable for tailored switching performance and EMI control; the slew rate spans 25 to 100 V/ns. The module is optimized for high-speed operation with a 1-MHz steady-state rating.

Other attributes of the LMG3410 are:

• Increase in power density: The 600-V power stage yields power losses which are 50% lower in a totem-pole power-factor-converter (PFC) topology compared to silicon-based boost PFC. Also, the reduced bill of materials and higher efficiency enable a power-supply reduction in size up to 50 percent.

• Reduced packaging parasitic inductance: The 8-mm square quad flat no-lead (QFN) package reduces power loss, component voltage stress and electromagnetic interference compared to discrete GaN solutions.

• Enabling new topologies: GaN's zero reverse-recovery charge is a benefit to new switching topologies, including totem-pole PFC and LLC (two inductors plus one capacitor) topologies, which offer increased power density and efficiency.

The GaN-based power stage features 70-mΩ RDS(on) (typical) at 25° C, with 20-nsec propagation delay (typical). It operates from a single, unregulated 12-V supply, as its internal buck/boost converter generates the needed negative drive voltage.

As part of its fault protection features—always critical in power-related applications—the LMG3410 module provides built-in over-temperature and over-current protection, as well as undervoltage lockout protection. The LMG3410 is housed in a low-inductance 8 × 8-mm QFN package for reduced parasitic inductance and "clean" switching waveforms.

To speed up design, development, debug and general familiarity with the module, TI will offer a development kit that includes a half-bridge daughter card and four LMG3410 devices, while a second kit contains a system-level evaluation motherboard. Together, these two kits support bench testing and design. The two development kits are priced at $299.00 and $199.00 respectively.