Last week Intel Corp. disclosed it would begin a restructuring effort designed to move the company further away from its PC business and into more profitable areas. The decision would also cost 11% of Intel employees (about 12,000 positions) their jobs.

Now the company is detailing its strategy that will transform the microprocessor giant from a PC company to a company more focused on the data center, cloud computing, the Internet of Things (IoT) and connectivity. The move away from PCs isn't much of a surprise considering Intel has been slowly moving in this direction prior to the PC market having a very bad year in 2015. But now the company is accelerating this switch in order to keep growing and remain profitable.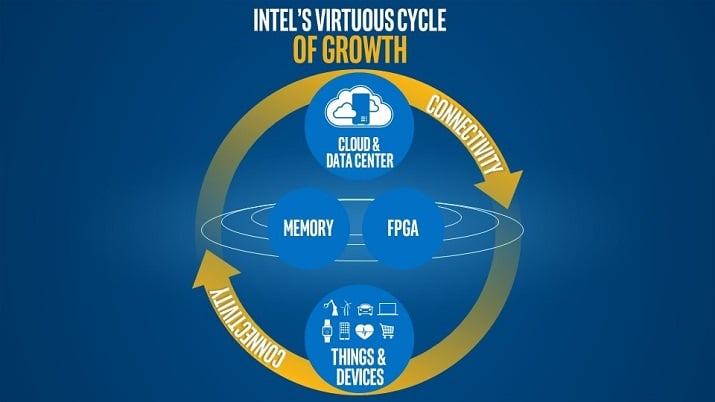 What Intel calls the virtuous cycle includes cloud computing, the data center and the Internet of Things all bound together by connectivity. Source: Intel The first aspect of this strategy change is focusing on using Intel architectures to enable the future of the data center and cloud computing. Intel wants to unlock the growth potential in this area by using analytics in order to learn how best to innovate in high-performance computing, big data and machine learning.

Secondly, Intel will broaden its scope in IoT to encompass all smart devices that can or will be connected to the cloud. Intel says IoT is an ambiguous term, but in all connected devices it must be able to capture a piece of data, measure it in real-time and be accessible from anywhere. And that means anything in daily life could potentially be considered a "thing" in IoT—from clothes, to shoes, to cars, to homes. Intel plans to focus on autonomous vehicles, industrial IoT and retail as its primary growth drivers and will leverage its core client business of PCs and mobile as the platform to drive this growth.

Tying both of these segments together will be Intel's memory business and Altera, which it recently acquired and has a huge platform of field programmable gate arrays (FPGAs) and system-on-chips. Through its Rack Scale Architecture, 3-D XPoint memory, FPGAs and silicon photonics, Intel says these will help power IoT and the data center as each has a long roadmap that will allow for growth for years to come.
Binding these technologies together is the fourth focus of Intel's new strategy, which is connectivity. In order for devices or big data to connect to the cloud, it must have the capabilities to do so and do so quickly. So Intel plans to play big in the realm of 5G technology in order to deliver end-to-end 5G systems, from modems, to base stations, to all the various forms of connectivity that exist today and those that will come in the future.

Finally, Intel will continue to support Moore's Law as the company moves from 14 nanometer manufacturing to 10nm and eventually 7nm and 5nm. Intel says that despite the statements that say Moore's Law is dead (as has been proclaimed for a number of years), it is alive and well and will continue to drive the company's investment in capacity and R&D.

To contact the author of this article, email engineering360editors@ihs.com