Fairchild Semiconductor has launched a new 100 V PowerTrench MOSFET with shielded gate and substantial enhancement in on-resistance RDS(on). As a result, the new generation 100 V PowerTrench MOSFET FDMS86181 delivers significant improvements in efficiency, voltage ringing and electromagnetic interference (EMI) for power supplies, motor drives and other applications requiring a 100 V MOSFET. It is the first part in Fairchild's new generation of PowerTrench MOSFETs.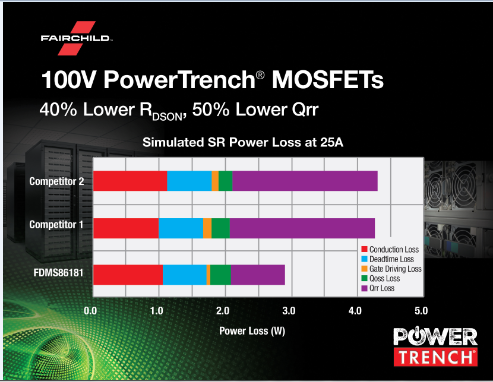 Fairchild launches new generation of 100 V n-channel PowerTrench MOSFETs.To lower conduction and switching losses, the new FDMS86181 offers 40% reduction in RDS(on) and minimal gate charge Qg. Maximum on-state resistance RDS(on) is 4.2 mΩ at VGS = 10 V and ID = 44 A. Likewise, the reverse recovery charge Qrr of the FDMS86181 is 50% lower than other MOSFETs in the market, claims the maker. This extremely low Qrr of the FDMS86181 virtually eliminates the voltage overshoots that cause ringing, which allows for the reduction or elimination of snubbers in product designs and reduces EMI. This enables designers to both reduce product size and bill-of-materials cost.

The 100 V power MOSFET comes in an eight-lead surface mount PQFN 5 x 6 (Power56) package for minimizing PCB space and RDS(on). In addition, the package offers a large drain tab for improving thermal performance.