System designers can speed time to market for wearable and health-care products with the MAX30102 pulse oximeter and heart rate integrated sensor module from Maxim Integrated Products Inc. The company positions the integrated pulse oximetry and heart rate monitor module as an ultra-low power solution providing a complete system to save space and ease the design-in process for mobile and wearable devices.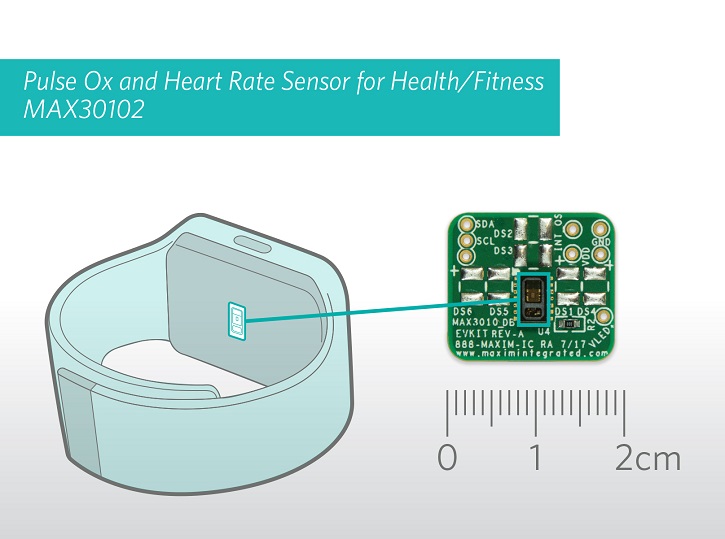 Maxim Integrated Products' MAX30102 is a pulse oximetry and heart-rate sensor designed for wearable devices targeting health and fitness applications. Shown on the right is the evaluation board, with the blue rectangle outlining the MAX30102 itself. Image source: Maxim Integrated Products, Inc.
Noting that wearable equipment for vital-sign monitoring is rapidly evolving, Maxim says that system-on-chip (SoC) and integrated module solutions are quickly replacing discrete, multi-component designs. The MAX30102 solution integrates red (visible light) and infrared (IR) LEDs to modulate LED pulses for peripheral oxygen saturation (SpO2) and heart rate measurements. The module also includes photo-detectors, optical elements and low-noise electronics with ambient light rejection. The MAX30102 is specified for operation over the -40° C to +85° C temperature range.
Available in a space-saving 14-pin OLGA/14 optical module measuring 5.6 mm x 3.3 mm x 1.55 mm, the chip operates on a single 1.8 V power supply, along with a separate 5 V supply for the internal LEDs. Current draw is specified as 600 µA (typical), dropping to 0.7 µA (typical) in shut-down mode.
An available evaluation platform (MAX30102ACCEVKIT) with the integrated module and an accelerometer provides a solution for customers to quickly evaluate the MAX30102.