The National Highway Traffic Safety Administration (NHTSA) has come out with guidelines for vehicle owners to work with repair professionals and automotive dealers when it comes to swapping out parts in vehicles, particular new airbags. Because of this, Hyundai Motor America has launched a new campaign to educate American drivers on the risks of using counterfeit automotive parts. The campaign is trying to highlight the difference between using non-Hyundai related parts versus counterfeit, aftermarket, salvaged or recycled auto parts. Through a series of media, advertising and information videos, Hyundai will showcase how original parts work against the parts made by other parties.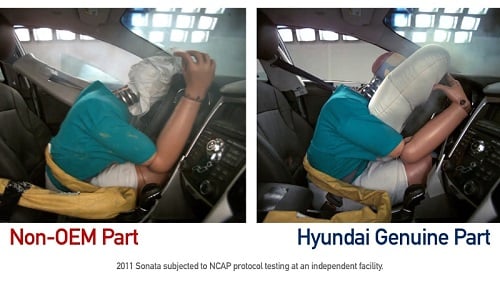 Hyundai says using counterfeit parts could have catastrophic results in the event of a crash. Image source: Hyundai
The U.S. Federal Trade Commission (FTC) estimates that counterfeit automotive parts cost the industry $12 billion in lost sales a year, including $3 billion in the U.S. alone. The use of counterfeit parts also resulted in about 200,000 to 250,000 fewer manufacturing jobs, the FTC estimates.
According to Frank Ferrara, executive VP of customer satisfaction at Hyundai, the use of counterfeit parts has been a growing problem in North America over the last 30 years. "Customers would see short-term savings after their vehicle was repaired, not even aware that non-Hyundai parts were used to bring these repair costs down," Ferrara says. "Short-term savings can have adverse long-term implications on the vehicle and passengers, which ultimately ends up costing more."
Ferrara says the ideal way to deal with this issue is to bring consumer awareness to the issue and get consumers to understand the dangers behind using other than original parts.
To contact the author of this article, email [email protected]