What if computers could recognize objects as well as the human brain could?
Electrical engineers from the University of California, San Diego have been working on a way for computers to recognize objects just as well as the human brain.
The researchers' newly developed pedestrian detection system can perform in near real-time (2–4 frames per second) and with half the error of existing systems. The technology incorporates deep learning models and could have future applications in smart vehicles, robotics and image and video search systems.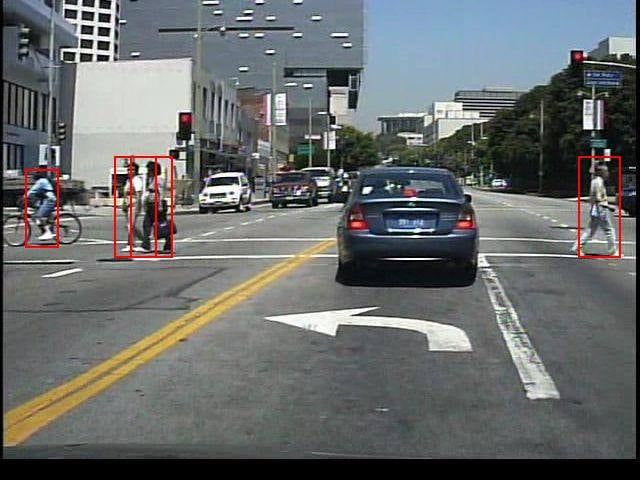 Pedestrian detection system developed in the Statistical Visual Computing Lab at UC San Diego. (Image via UC San Diego)
"We're aiming to build computer vision systems that will help computers better understand the world around them," said Nuno Vasconcelos, electrical engineering professor at the UC San Diego Jacobs School of Engineering who led the research. With self-driving vehicles now a reality, an important addition would be real-time vision, especially when it comes to looking out for pedestrians.
The team's pedestrian-detection algorithm combines traditional computer vision classification architecture, called cascade detection, with deep learning models. While typical detection systems break down an image into small windows that are processed to determine whether a pedestrian is present, the new approach incorporates deep learning models in the final stages of a cascaded detector. Deep learning models perform after being trained with hundreds or thousands of examples. In this case, the researchers used examples of images with and without a person in them.
Vasconcelos and the team also introduced a new mathematical formulation for this problem, which resulted in a new algorithm for cascade design. "No previous algorithms have been capable of optimizing the trade-off between detection accuracy and speed for cascades with stages of such different complexities. In fact, these are the first cascades to include stages of deep learning. The results we're obtaining with this new algorithm are substantially better for real-time, accurate pedestrian detection," said Vasconcelos.
In its current state, the algorithm only works for binary detection tasks like pedestrian detection, but the researchers plan to enhance the technology so that it can detect multiple objects at the same time. "One approach to this problem is to train, for example, five different detectors to recognize five different objects. But we want to train just one detector to do this. Developing that algorithm is the next challenge," said Vasconcelos.