Microsemi Corporation announced a new addition to its recently-launched family of inductive sensor interface integrated circuits (ICs). Working in conjunction with a linear variable differential transformer (LVDT) position sensor or a rotary variable differential transformer (RVDT), Microsemi's LX3302 supports wear-free, contactless sensing for high reliability and long working life. Specifically designed to drive low-inductance printed circuit board-based sensor coils, the chip is geared toward applications within the automotive, industrial, and commercial aviation markets.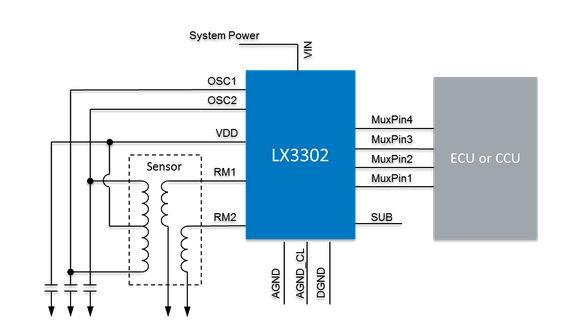 Microsemi Corporation's LX3302 inductive sensor interface IC. (Source: Microsemi Corporation)The LX3302 improves on the company's LX3301A with AEC-Q100 grade 0 certification, an extended temperature range to 150° C, and a richer set of system interfaces which include analog sine/cosine outputs, single edge nibble transmission (SENT) and Peripheral Sensor Interfaces (PSI5), as well as the standard analog output and pulse width modulated (PWM) output. In addition, the LX3302 has double the EEPROM available in the LX3301A, allowing for eight-point calibration, versus six-point calibration, improving system accuracy.
Microsemi says the LX3302 can replace incumbent Hall-effect sensors, noting that inductive sensing technology doesn't share Hall devices' (and other magnetic sensors') susceptibility to external magnetic fields. The company positions the LX3302 as ideal for a variety of applications related to control systems and industrial automation, including linear displacement measurement (fluid level sensing, gear position for transmission actuator position and brake lamp switch/proximity detection) and angular motion measurement (robotic arm position, rotating shaft position, pedal position and rotary controls).
The IC features two independent sensor input channels with 13-bit analog-to-digital converters (ADCs) and offers programmable sampling rates as high as 2,000 samples/second. It includes an integrated oscillator and demodulator for sensor drive and readout.