EHang, a Chinese unmanned aerial vehicle (UAV) company, has taken the public one step closer to achieving everyday flight for short distances by unveiling the EHang 184, the world's first electric, personal autonomous aerial vehicle (AAV). This ready-to-fly manned drone is capable of automatically carrying a passenger through the air by entering a destination into an accompanying smartphone app.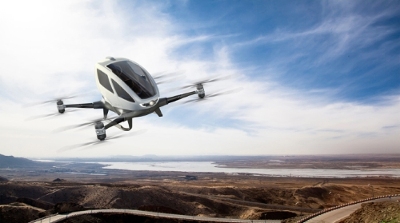 The world's first electric, personal Autonomous Aerial Vehicle (AAV) - EHang 184. (Source: EHang)
The 184's fully automated navigation is made possible by EHang's real-time flight command center and makes it possible for passengers to fly without a pilot's license. Rather, users can sit back and let the drone take over from there. Automated flight can play a major role, not only in the transportation field, but also in industries such as shipping, medical care and retail.
"It's been a lifetime goal of mine to make flight faster, easier and more convenient than ever. The 184 provides a viable solution to the many challenges the transportation industry faces in a safe and energy efficient way," says Eang CEO Huazhi Hu. "I truly believe that EHang will make a global impact across dozens of industries beyond personal travel. The 184 is evocative of a future we've always dreamed of and is primed to alter the very fundamentals of the way we get around."
The EHang 184 got its name from: 'one' passenger, 'eight' propellers and 'four' arms. Some key features include built-in reinforcements for flight systems in the event of a failure, sensors that provide real-time data, and a communications system that the company designed with a safety guarantee.
The giant manned drone takes off and lands vertically so there's no need for runways and it is completely electric, eliminating the need for fuels.
Inside of the vehicle's cabin is one single seat designed similarly to an F1 racing car seat. In front of the seat is a tablet console where passengers can easily input commands. The cabin comes equipped with a built-in air conditioner and 4G Wi-Fi Internet.