Transducers Direct has introduced a new Android app—the CirrusSense TDWLB pressure transducer—the first sensor to use wireless Bluetooth Low Energy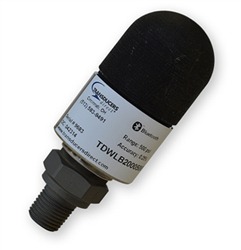 The CirrusSense TDWLB pressure transducer. Credit image: Transducers Direct(BLE) and a design to connect pressure sensors to mobile devices and computers for remote monitoring and programming. The new app, available on Google Play, enables users to name each sensor, then programs set points and/or alarms for multiple sensors and monitor readings, from any Android-enabled device.
The CirrusSense sensor is ideal for remote reading of pressure/temperature in A/C and refrigeration lines, compressed air lines, water lines, dental and industrial gas lines. It uses circuitry to provide a 12-to-18 month battery life and redundant sensing. Available in two different compensated accuracies of 1% and 0.25%, it features an external temperature-sensing probe as an option for measuring sub-cooling and superheat in HVAC applications.
The CirrusSense transducer is both Bluetooth Smart and FCC certified. According to the company, users save time and money by preventing equipment damage, food spoilage, redundant service calls, downtime and premature refills. The sensor also ends refrigerant leaks and blowback from manifold gauges. Gauge recalibration or adjustment is not required.
The U.S.-made CirrusSense TDWLB is digital, eliminating mechanical components, wear parts, analog circuitry and set-point drift. It is easily programmed and monitored through its app for measuring pressures from vacuum to 10,000 psi. The sensor is EMI/RFI protected and sealed to IP-65 rating. Standard overpressure rating is 2X, with 10X optional.
The TDWLB is available with a variety of industry standard pressure-port connections. Replacement battery packs are available from Transducers Direct.
To contact the author of this article, email engineering360editors@ihs.com
Related Links: