A new level of autonomous driving is being advanced by GM. The company is seeking approval from U.S.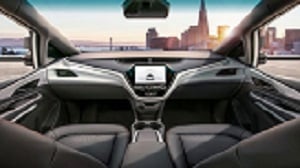 The Cruise AV uses no driver, steering wheel, pedals or manual controls. Source: GMregulators for a vehicle with no steering wheel or pedals. The Cruise AV, designed to travel without human intervention, is expected to be included in GM's first commercial ridesharing fleet, with a launch planned for sometime in 2019.
The automaker has requested the U.S. National Highway Traffic Safety Administration to allow 16 alterations to existing vehicle safety rules, such as having an airbag in what would normally be the driver's seat, but without a steering wheel. GM will also need to obtain approvals from each individual state, most of which stipulate that a car must have a licensed driver.
The Cruise AV is equipped with five LiDARs, 16 cameras and 21 radars. These sensors and cameras all scan both long and short range, with a 360˚ view around the vehicle. With its laser measurements, LiDAR provides precise feedback for both fixed and moving objects.
Cameras measure the light intensity reflected off or emitted from objects, and the information generated is combined with LiDAR data to classify and track objects. This helps to identify pedestrians, determine vehicle types and detect road details such as lane lines and signage.
Long-range sensors track high-speed objects such as oncoming vehicles while short-range sensors provide details about moving objects close to the vehicle.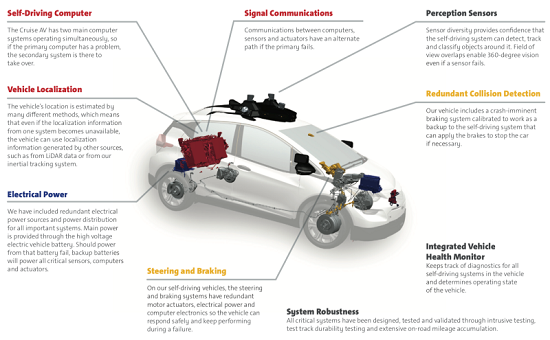 Systems diversity and redundancy is key to the safety of the Cruise AV. Source: GM