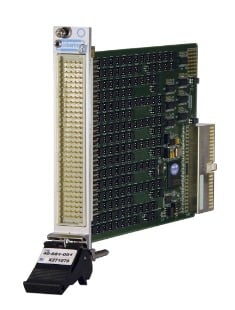 The 40-681 PXI MUX provides a versatile architecture and multiple selectable switching configurations.Pickering Interfaces has unveiled a new Versatile High-Density PXI Solid State Multiplexer (MUX), the 40-681 featuring a wide range of selectable switching configurations. The versatility of its architecture allows all multiplexer banks to be inter-linked and common connections used as extra signal inputs programmatically.
The solution is especially useful where a high-density MUX array is required that adapts to different test configuration for different test targets, or where a test system may need to be reconfigured in the future. High-performance solid-state relays ensure that the 40-681 MUX has a long service life, even when hot switching into capacitive loads. It sustains 1.5A for 100ms on hot or cold switching.
The module is supported by Pickering's eBIRST switching system test tool that simplifies switching system fault-finding by quickly testing the system and identifying the faulty relays. Once identified, the tools then display a graphical representation of the switching system's PCB assembly, highlighting the relays that need to be replaced.
Related Links: