Sponsored Content
It is quite common for companies to purchase DC/DC converters as complete, finished modules, as opposed to developing their own, for use in various sectors of the electronics industry.
The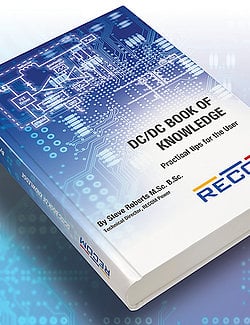 The DC/DC Book of Knowledge, Practical Tips for the UserDC/DC Book of Knowledge is an overview guide to the power-conversion technology which provides DC/DC converter tips at a technical level while using the most simplistic language possible without removing overall significance– a perfect read for engineers, power-supply designers, and even students.
The book was written by Steve Roberts, Technical Director for RECOM, a leading manufacturer of power supplies. He comes with years of experience by presenting on the technology, writing articles, and creating informative YouTube videos to make the book a handy and helpful guide for understanding every aspect of DC/DC converters.
According to Roberts, every DC/DC converter has to accomplish the following tasks; match the secondary load to the primary power supply, provide isolation between primary and secondary circuits, protect against mishaps, like short circuits and overheating, and obey safety, performance, or EMC legislation. The book explains how to achieve these goals, as well as points out the advantages, disadvantages, and limitations of different methods.
The nine-chapter book takes the reader through different aspects of DC/DC converters beginning with a look at feedback loop characteristics such as open and closed loop design, and then delves into protection aspects, input and output filtering, safety and reliability, LED characteristics, and finally DC/DC applications.
He even provides an entire chapter on understanding datasheet parameters which helps the reader compare one DC/DC converter to another using datasheet information. By looking at two datasheets, it will not give an accurate comparison but rather an interpretation of the product details is required.
Main areas of focus
Power regulation: He explores how the DC/DC converter is gradually replacing transformers, rectifiers and linear regulators as the core technology in power conversion.
Feedback loops: He discusses the various types of feedback loops as well as the calculations that go into compensating them since inaccuracies can result in converter instability or failure.
Filtering: Input and output ripple may need to be reduced by external filters. He explains the methods behind design and selection of these filters.
Protection: Since DC/DC converters are meant to protect the application, he discusses protection techniques which involve stabilizing output voltage and making sure system faults are guarded.
Safety: His chapter on safety standard and regulations aims to alert readers of the necessary methods for avoiding injury and property damage.
Reliability: A chapter on reliability informs readers of the statistical methods necessary to predict how long devices will function properly.
LED Characteristics: This chapter takes the reader on a tour of all things LED so that when bumps arise in application areas, the reader can handle them knowledgeably.
Application Ideas: Potential applications include industrial automations, transportations, telecommunication, and medical, but he explores the lesser-known applications that require DC/DC conversion.
For over 200 pages, he takes the reader on a journey of his accumulated knowledge of DC/DC converter design using straightforward styles that present the read in a handbook fashion.
The DC/DC Book of Knowledge is available as a PDF download at no cost and can be read in English, German and Chinese to serve engineers. For those interested in purchasing a hard copy, RECOM has made the guide available for purchase for $5.00.
A deep need for a guide rich in know-how was the inspiration for the book, according to its preface:
"The advance of semiconductor technology and the shift towards highly integrated digital electronics has diminished the knowledge base of analogue techniques in many design labs, universities and technical colleges over the years. We often see a lack of practical know-how in analogue circuit design, particularly with regard to applied techniques, test and measurement and the understanding of filtering and noise suppression. Therefore, as experts in this arena, we saw the need for a much more comprehensive technical handbook that could be used as reference by hardware designers and students alike."
RECOM, introduced its first DC/DC converter over 25 years ago, at a time when there was not much informative material available about the technology. Now the company is presenting this handbook as a companion to the DC/DC converters they abundantly create.
Order a Hard Copy from Digi-Key
To contact the author of this article, email [email protected]