Using the ubiquitous magnetic field as a non-contact technique for measuring current (following Faraday's Law) is an attractive but often somewhat mysterious challenge. The sensor must be aligned with the field, its output must match the analog signal-conditioning front end, and there are issues of calibration as well as errors due to ambient or stray fields. Despite these issues, it is still the most attractive way to measure current while avoiding any risks or hazards, which may occur due to direct physical contact with high currents and voltages.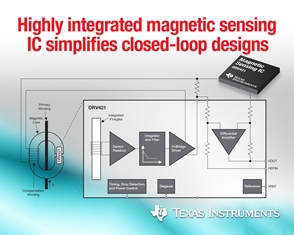 Figure 1 - The DRV421 magnetic-sensing IC from Texas Instruments provides accurate, non-contact current sensing for motor control and energy management in a 4 by 4-mm package, via its combination of fluxgate sensor, signal conditioning, and compensation-coil driver.Merging all the functions needed for magnetic-based current sensing, Texas Instruments(TI) DRV421 combines a fluxgate sensor, signal conditioning, and compensation-coil driver in a single IC, (See Figure 1). The result is closed-loop, accurate, linear current-sensing that is well suited to motor control, renewable energy, battery charging, and power-monitoring applications.
The integrated fluxgate sensor—a tiny, active magnetic-field-sensing arrangement that requires tailored excitation—reduces design complexity and effort, as well as physical footprint. Unlike a passive magnetic-field sensor such as a compass, a fluxgate design uses a magnetic core wrapped with a wire coil. The coil is stimulated with an alternating current, which induces corresponding known changes in the core's magnetic field and output signal. An external magnetic field will cause deviations from these expected changes; any deviations can be detected and amplified to sense the field's strength with high precision. While the fluxgate arrangement is obviously more complicated in concept than sensing a compass needle or its equivalent, it has no moving parts. It is small yet sensitive, and can be arranged to minimize effects of stray externals fields due to nearby objects.
The DRV421 provides overall sensing accuracy that is better than 0.1%, matching today's tighter requirements for precise closed-loop control of motors and other high-performance motion-control systems. To maintain linearity (another critical performance parameter), the IC simplifies the task of minimizing cross-coupling between the fluxgate sensor itself and the external compensation coil, as well as unwanted emissions from fluxgate's own excitation. (The compensation coil is used to counteract the effects of unavoidable ambient magnetic fields.) Despite its wide six-decade dynamic range, the DRV421 maintains accuracy via a closed-loop core-degaussing procedure and offset calibration, which also works in conjunction with any system-level correction techniques.
Another issue with fluxgate sensors is their need for higher-voltage power-supply rails and output-signal levels compared to the rest of the circuitry. Since the DRV421 operates from supplies as low as 3.3V, the interface to low-power microcontrollers often used in these applications is simplified while the existing supply can be used.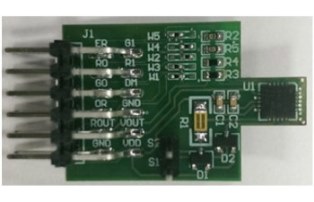 Figure 2 -The EVM for the DRV421- the user connector is at the left, the DRV421 IC is on the peninsula at the right, and S1-S2 (bottom center) are the connections to the external compensation coil.TI offers an evaluation module (EVM) for the DRV421. Using this EVM, potential users can build a current-sensing module with a magnetic core and compensation coil; configure the open-loop gain setting (to ensure loop stability by accounting for different system parameters such as core inductance and series resistance); and explore the degauss function. (See Figure 2)
The DRV421 is offered in a 4 × 4-mm no-lead QFN package. Samples are available now, with full-production quantities available by third quarter of 2015, and is priced at $2.50 each in 1,000-unit quantities; the EVM is $49.
Related Links: