Nvidia Corp., best known as a developer of graphics processing unit (GPU) chips, has launched an Android TV and gaming console under the Shield name. The device supports 4K video playing at 60 frames per second and is designed to play games natively or with Cloud-based support. It is an extension of the Shield brand that was used for a tablet gaming console launched in July 2014.
The Shield console will retail for $199 and go on sale in May 2015, the company said at launch held at the Game Developers Conference in San Francisco.
The Shield console is based on the Tegra X1 processor, a "big-little" octacore 64bit processor with four Cortex-A57 cores, four Cortex-A53 cores and 256-core GPU compliant with Nvidia's Maxwell architecture. The chip is being manufactured for Nvidia by foundry Taiwan Semiconductor Manufacturing Co. Ltd. using its 20nm planar CMOS manufacturing process. The box also includes 16Gbytes of storage and delivers 4K content via HDMI and draws down streamed 4K content over Gigabit Ethernet.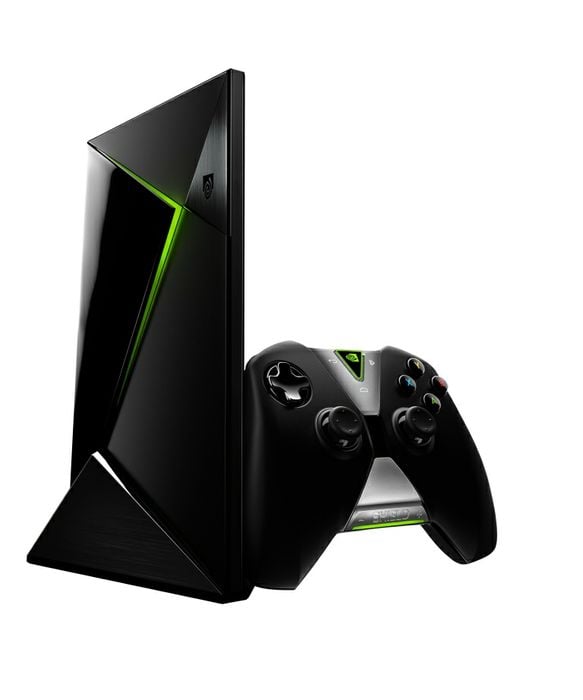 Shield Android TV console with remote controller. Source: Nvidia.
Nvidia (Santa Clara, Calif.) has prepared 50 Android game titles optimized for the Shield console and made them available for download. At the same time, Nvidia is also claiming the Shield console makes a good streaming gaming platform where players will be able to use the company's Grid subscription service to play games running remotely on Nvidia servers.
The Grid service has been around for some time, but is being transitioned to a paid-for subscription service. One reason for cloud-based gaming is that some games can now exceed 50Gbytes in size and take several hours to download. Starting in May, Grid game streaming will be divided into first- and second-class services. Grid will offer 720p definition at 30 frames per second and Grid Plus will offer games at up to 1080p and 60 frames per second.
Nvidia CEO Jen-Hsun Huang said through a statement that the Shield console is powerful, efficient and can transform into a "serious" gaming machine. "It's made to game," Huang said.
Questions or comments on this story? Contact peter.clarke@globalspec.com.
Related links and articles:
News articles:
Nvidia Rides Gaming Market to Big Boost in Sales
Nvidia Launches Mobile Processor Aimed at Automotive