Speaking at a Qualcomm financial analysts' day held in New York Wednesday (Nov. 19) CEO Steve Mollenkopf said that the company would be leveraging its leading position as a supplier of chips for the high-end smartphone market to move into adjacent markets including servers in the data center.
Mollenkopf said that the company was preparing for the Internet of things (IoT) where new devices and new access points would transform the edge of the Internet and that these changes at the edge would also drive new demand in the data center.
"This is something we've been working but not talking about for some time. Well now we are going to have a product that goes into the server," Mollenkopf said.
In a prerecorded video Jay Parikh, Facebook's vice president of infrastructure, said that technologies such as ARM-based servers were interesting because they provide different characteristics in terms of performance, power consumption and cooling requirements and indicated that Facebook was already using Qualcomm-based ARM servers.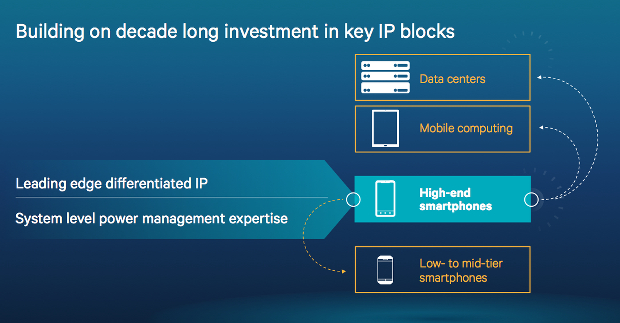 Moving down and up into adjacent markets. Source: Qualcomm.
"The Cloud in the datacenter opens up opportunities for someone like us," Mollenkopf said adding that the performance requirements for high-end application processors is starting to merge with the requirements for server chips. "We are starting to engage with customers and that's something we are interested in for the long term. It will take us a while to build this business. "
Mollenkopf said servers and systems architecture is being re-defined for a software-defined data center and this could present a $15 billion market opportunity by 2020. "Even if you include pricing changes due to the introduction of ARM-based server player, which will really change the pricing. It's still a $15 billion TAM [total available market] in 2020."
"It's a very significant business that we think we are uniquely qualified to go after because of our scale in mobile," he added.
LTE/Wi-Fi on unlicensed spectrum
As well as moving into servers and hanging on to its leading position in smartphone application processors Mollenkopf also has ambitions in smart cars, smart homes, wearables and tablet computers.
The move into the data center will be accompanied by a move into small-cell basestations with LTE in unlicensed spectrum, Mollenkopf said. Qualcomm started lobbying for LTE, a mobile telecommunications standard to be allowed to use unlicensed spectrum at 5GHz, where Wi-Fi operated a year ago (Qualcomm Lobbies for LTE on Unlicensed Spectrum)
The argument runs that LTE Advanced on unlicensed spectrum would bring higher efficiency and robustness than Wi-Fi, while also allowing a seamless extension of the LTE Advanced network. Carrier offloading to Wi-Fi already takes place to relieve pressure on the core network but would be better if it was done under LTE-Advanced, Qualcomm argues.
At this year's analysts' day Mollenkopf said that the idea has made progress through standards committees and that field-test demonstrations had shown performance gains and attracted the interest from tier-one cellular phone service operators.
With an illustration of a unit from Alcatel-Lucent Mollenkopf said that 15 companies were developing small-cell basestations using Qualcomm technology.
Mollenkopf said that it was important for Qualcomm to have a technology and product positions both in mobile equipment and at the edge of the network so that features and their requirements could be adequately enabled and supported. "LTE has already solved a number of the problems that are trying to be solved in future revisions of Wi-Fi. We have the ability to deliver both LTE and Wi-Fi in the unlicensed band," he said adding that it appeals to cellphone operators because it allows them to keep in contact with their subscribers as they move from outside the home to inside the home.
Besides internal developments for adjacent markets Mollenkopf said that Qualcomm would be looking to make focused investments on external growth businesses.
Related links and articles:
IHS research on data centers, cloud and IT infrastructure research
News articles:
Qualcomm Lobbies for LTE on Unlicensed Spectrum
China Launches Antitrust Investigation Against Qualcomm
LTE Advanced in Unlicensed Spectrum