Samsung Electronics has announced the development of a wireless LAN technology for use with a 60GHz carrier frequency that the company claims operates five times faster than the maximum possible with existing Wi-Fi enabled consumer electronics.
The technology operates at up to 4.6Gbps, or 575Mbytes per second, a five-fold increase from the 866Mbps, or 108Mbyte per second that is the current maximum. Conventionally Wi-Fi standards based on IEEE802.11 standard have been deployed on carrier frequencies at 2.4GHz and 5GHz.
As with 2.4 and 5GHz, the 60GHz carrier spectrum is an unlicensed band across the world and commercialization is expected in 2015, Samsung said. In a brief announcement on a blog page Samsung said the 60GHz technology is commercially viable and would benefit a wide variety of electronic equipment.
Prior to Samsung's announcement 60GHz Wi-Fi has been pioneered by a "gang of four" startups; Blu Wireless Technology Ltd. (Bristol, England), Nitero Inc. (Austin, Texas), Peraso Technologies Inc. (Toronto, Ontario), and Wilocity Inc. (Sunnyvale, Calif.) which was acquired by Qualcomm in July 2014.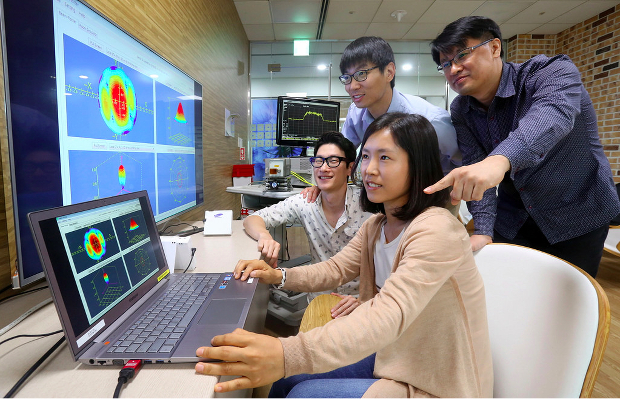 Samsung engineers demonstrate 60GHz Wi-Fi. Source: Samsung.
Samsung did not disclose whether its 60GHz Wi-Fi is based on technologies from any of these startups or has been developed entirely "in-house."
Samsung's performance claim for its technology means that a movie occupying 1Gbyte could be transferred between equipment in less than three seconds. This means that downloading a movie to a mobile phone and then bumping it up to a large-screen television for comfortable viewing could be done much more easily. However, it is also likely to bring further demand for memory chips in equipment and on long-haul telecommunications infrastructure.
Although there have been plans for some time for Wi-Fi to move to 60GHz there have been challenges to its adoption, not least the fact that millimeter waves travel by line-of-sight and reflections can result in poor signals and loss of data.
Beam-forming plus modem
Samsung said its breakthrough is based on the combination of a beam-forming antenna together with modem technology and millimeter-wave circuit design. Samsung said its 802.11ad standard 60GHz Wi-Fi eliminates co-channel interference regardless of the number of pieces of equipment using the same network.
The beam-forming control optimizes communications in less than 350ms and Samsung claims that is has developed the world's first method that allows multiple devices to connect to a network at the same time.
"Samsung has successfully overcome the barriers to the commercialization of 60GHz millimeter-wave band Wi-Fi technology, and looks forward to commercializing this breakthrough technology," said Kim Chang Yong, head of DMC R&D center of Samsung Electronics, in a statement.
Samsung did not provide further details of its technology or whether it would make it available others under license. It did say that it plans to deploy the technology in a wide range of products, including audio visual and medical devices, and telecommunications equipment. The technology will be integral to Samsung's approach to the domestic electronics and the Internet of Things, the company said.
Related links and articles:
http://global.samsungtomorrow.com
News articles:
Samsung Buys into IoT with SmartThings Startup
Nitero Launches 60GHz Wi-Fi Chip for Mobiles
Qualcomm Set to Buy WiGig Chip Maker