Freescale Semiconductor Inc. (Austin, Texas) has introduced a range of programmable wireless charging ICs and reference designs that comply with the Qi standard of the Wireless Power Consortium (WPC).
The Freescale chips and reference designs are aimed at consumer and automotive applications. Freescale offers two transmit controller ICs for automotive applications. The entry-level device, MWCT1001A, provides a multi-coil wireless charging transmit solution, while MWCT1003A is the premium option providing more features. The MWCT1003A helps with the integration of Near Field Communication (NFC), CAN technology and is used in a reference design, the WCT-5WTXAUTO. The auto-focused ICs meet AEC-Q100 requirements and support any 5W coil topology.
The reference design uses automotive grade components and takes into consideration automotive functions, such as avoiding interference with key fobs and car radios. The design complies is certified as a WPC-A13.
For consumer applications, Freescale offers the MWCT1000 transmit controller IC and the associated WCT-5W1COILTX reference design, addressing 5W single-coil applications. This is certified as a WPC-A11 transmitter type. For greater design freedom and feature integration, Freescale offers the MWCT1101 controller IC.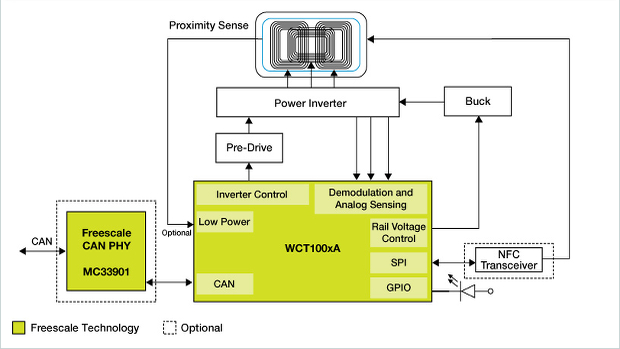 Block diagram of multi-coil wireless charging transmitter reference platform for automotive applications. Source: Freescale.
"Current solutions in the market offer very little customisation or flexibility," said Denis Cabrol, director of global marketing and business development for Freescale's MCU group, in a statement. "Freescale's programmable wireless charging solutions offer ground breaking design flexibility, combining silicon and software to give systems designers advanced technology to help redefine mobility."
Several bodies
WPC is one of several bodies seeking to promote wireless charging of mobile electronics. Other bodies include the Alliance for Wireless Power (A4WP) and the Power Matters Alliance (PMA). Freescale is not a member of the A4WP but is a member of the PMA. In February of 2014 A4WP and PMA announced that they would collaborate and establish global interoperability of their two wireless power standards.
A4WP offers a magnetic resonance technical specification under the Reznance brand while PMA offers inductive charging technology with installations in Starbucks and McDonald's stores.
Related links and articles:
IHS emerging power technology services
www.wirelesspowerconsortium.com
News articles:
Korean Startup Targets Wireless Charging
Broadcom Adds Wireless Charging to Bluetooth/IoT Chip