The world's leading foundry, Taiwan Semiconductor Manufacturing Co. Ltd., has forecast that it is going to enjoy a sales boom in 2014, a year that the company reckons will only show modest growth for the overall semiconductor market.
And while 20nm bulk CMOS manufacturing will provide the "engine of profitable growth" in 2014 and 2015, the company reckons it is well placed to use its 16nm FinFET process to continue the success in 2016 and beyond.
Speaking at a conference organized to discuss the company's 1Q14 financial results Mark Lui, co-CEO of TSMC (Hsinchu, Taiwan), took over a task previously performed by chairman Morris Chang in providing an industry-wide and sector-specific semiconductor industry forecast.
Lui said that TSMC's has raised its estimate for overall semiconductor market growth in 2014 to 7 percent from 5 percent. The fabless sector will do better than the overall market and its growth will be 9 percent, compared with the previous estimate of 8 percent, Liu said. Foundry is an even stronger sector that will show 14 percent growth, up from 10 percent and Lui expects TSMC to gain market share and achieve annual growth in 2014 "several percentage points" above that shown by foundry.
TSMC on a roll
In other words TSMC is looking to expand its sales in 2014 by something in the high-teens of percentage points. TSMC's boom and gains in foundry market share will come as a result of demand for its 28nm and 20nm bulk CMOS manufacturing processes, Lui said.
The ramp up of the 20SoC process in the second half of 2014 is expected to contribute to that. Co-CEO CC Wei told the same conference that the ramp will be the fastest in TSMC's history adding that the 20SoC manufacturing process will be responsible for 10 percent of TSMC's 2014 revenue and for 10 percent of the 4Q14 revenue.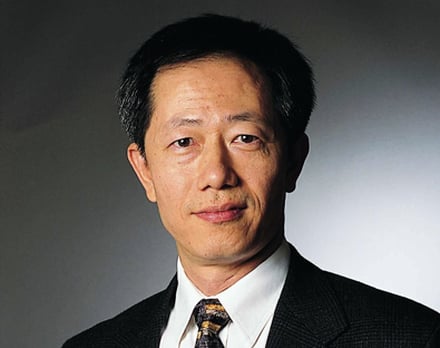 Mark Lui, co-CEO of TSMC, sees boom year in 2014
"TSMC will gain market share in 28nm with the high-K metal-gate transition in the second-half of 2014. TSMC expects to gain overall foundry market share in 2H14 while we ramp up 20SoC [manufacturing process] in the second half of 2014," said Lui.
However, the growth, that is usually experienced in the second half of the year, will shift towards the first half in 2014. TSMC has enjoyed a very strong 1Q14 and is predicting a better than seasonal 2Q14. After that Lui said he expects TSMC sales to return to more moderate but positive sequential growth in Q3 and Q4.
The extremely fast 20SoC ramp is thought to be the result of one or two major customers with Apple thought to be particularly prominent. However, one analyst raised the point that TSMC is becoming increasingly focused on a few high volume customers serving mobile equipment companies raising the possibility that just two companies could take 25 percent of TSMC's wafers in 2015.
60 tape-outs planned for 16FF
Lui also provided benchmark data on TSMC's next-generation finFET manufacturing processes denoted 16FF and 16FF+. The 16FF+ process offers a 15 percent speed improvement at the same power compared with 16FF and a 30 percent power reduction at the same speed, he said. 16FF+ offers a 40 percent speed improvement compared with the 20nm bulk CMOS. "We will receive first customer product tape-outs this month and about 15 products are planned for 2014," said Lui. That goes up to 45 product tape-outs in 2015 the first year of volume production. "The 16 FinFET yield learning curve is very steep today and has already caught up with 20SoC," Liu said.
Lui added that the 10nm FinFET process development is on-track for risk production in 4Q15. He said the process will provide a greater than 25 percent speed improvement at the same total power consumption as 16FF+ or a 45 percent total power reduction at same speed compared with 16FF+. In addition, the 10FF process will provide density improvement of 2.2x over the previous generation 16FF+ process.
In the Q&A session of the conference Lui said the the 16FF+ process would be qualified in September 2014 and that he expected the majority of customer's products would be manufactured using 16FF+.
Related links and articles:
News articles:
Samsung, Globalfoundries Form 14nm Alliance to Fight TSMC
TSMC Gets Ready to Enjoy Apple Booster
TSMC Tweaks 16nm FinFET to Match Intel