Overview / Key Product Features
The HP PhotoSmart 8250 printer features up to 4800 x 1200 optimized dpi printing, high-speed (31 pages per minute color, 32 black), a 2.5' color image LCD, and direct photo printing (without a PC). It retails for $199.99 on the HP website. In comparison with the Photosmart 3210, the specs seem essentially identical minus the scan/copy function.
Scope of Analysis
This analysis was limited in scope to the core electronics and processing boards and the electronic components contained therein. The only boards excluded in this analysis were those that served exclusively as interconnect and or filtering with connectors or limited passives, and the display module itself. All of the integrated circuit and the vast majority of the discrete semiconductor content within the printer is contained in this analysis as well as two small power supply boards (not the main internal AC power supply excluded from this analysis).
Cost Notes
Whereas the cost summary generated by a teardown is generally a good summary of the cost of the entire device, given the limited scope of this teardown, it is difficult to draw overall cost conclusions about this printer given the limited scope (electronics only without main power supply). Having said that, we have produced a complete cost analysis of those sub-assemblies torn-down, as listed.
Main Cost Drivers
(Note again - this analysis is incomplete and does not include many of the assemblies that make up the finished Photosmart 3210 product. These 'main cost drivers' are those which were notable within the scope of this core 'electronics only' analysis.)
Microprocessor - ARM Core - Philips Semiconductor
6-Layer - FR4
Regulator - DC-DC Converter, PWM, Multiple - Texas Instruments
SDRAM - DDR, 512Mbit (x16), 166MHz, 2.5V - Infineon
Flash - 64M-Bit, SPI Serial Interface, 50MHz, 3V - Macronix
Manufacturing Notes
Country of Origin
Based on the country of origin markings on the printer itself, we are assuming that Malaysia is the country of origin, not just for final assembly, but for the PCBA assemblies analyzed here. We have, however, assumed that custom plastics, metals, etc. are China origin.
Volume Assumptions
For the purposes of this cost analysis, we have made an assumption that the lifetime production volume for this particular model would be 500,000 units. This figure cannot be considered to be necessarily 'market accurate' but an estimate used only for the purposes of calculating certain costs which are modeled (ASICs\, PCBs\, plastics and custom mechanical components). Volume assumptions can have a minor affect on our cost analysis\, however for the most part\, for products where production volumes are at this level\, fixed costs such as non-recurring engineering (NRE)\, tooling and other set-up costs which must be amortized over the assumed production volume. In other words\, if the volume assumption is 500,000 or 1M\, this typically only changes the sum total of the analysis by pennies. The volume assumption only becomes more critical in the case of very low volume productions.
Design Notes
It is interesting to note not just the core chips are on the PhotoSmart 3210's main PCB\, but the great deal of similarity and design re-use demonstrated in the PhotoSmart 8250 analysis. In fact with the exception of the Wolfson Micro ADC chip here and the Micrel Ethernet transceiver - for the most part all of the core silicon is the same\, employing the Philips ARM-core processor and TI power management solutions.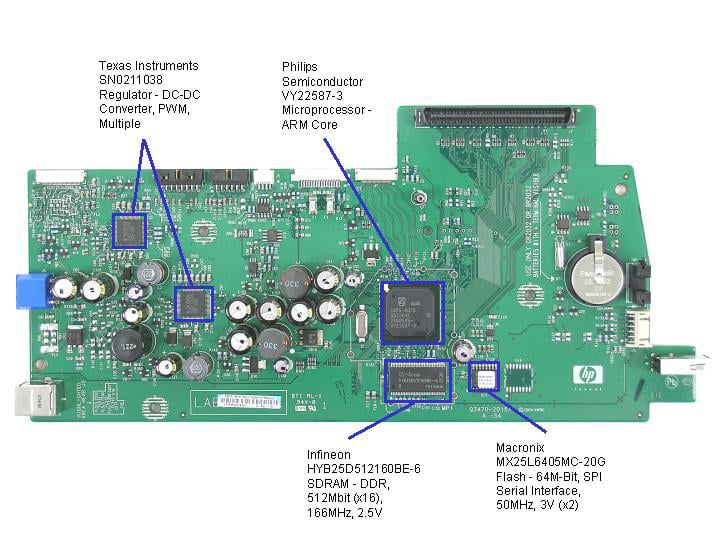 Main PCB
Image Sensor PCB
Keypad PCB
The other PCBs found in this device were not covered as they were primarily interconnect or power supply PCBs.
Core Processing and Interface ICs

Microprocessor - ARM Core - Philips Semiconductor - VY22587-3
Ethernet Transceiver - Micrel - KSZ8721BL
ADC - 16-Bit\, for CCD Sensor - Wolfson Microelectronics - WM8198SCDS
Regulator - DC-DC Converter\, PWM\, Multiple - Texas Instruments - SN0211038

SDRAM - DDR\, 512Mbit (x16)\, 166MHz\, 2.5V - Infineon - HYB25D512160BE-6
Flash - 64M-Bit\, SPI Serial Interface\, 50MHz\, 3V - Macronix - MX25L6405MC-20G

Image Sensor - Linear CCD\, 4800dpi - NEC - uPD88xx

ASIC - Chip-On-Board - Unidentified - but assumed to be a device such as an 8-bit microcontroller for the keyboard interface.