Main Features
- Dual-Band GSM / GPRS (8), Camera (VGA/CMOS) with flash, OLED secondary display (16 shade grayscale), NO bluetooth.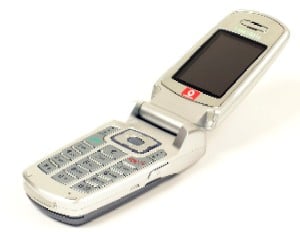 Marketing / Positioning - The E710 is the brother of the E715, and appears to be a mid-range high-volume product for Samsung. The E710 and E715 are being offered as by carriers such as T-Mobile and Vodafone as part of their core phone offering to new subscribers.
This is yet another silver flip phone from an Asian manufacturer making it hard to distinguish from the pack - and the marketing from Samsung doesn't help in any meaningful way in differentiating it. Despite the camera and flash, Samsung offers, once again, no Bluetooth and a lack of fairly common 'extras' (like no handsfree speaker). There is an OLED secondary display is one of very few we have seen (it isn't color, however). Samsung does always throw in an extra battery though.
We are often mystified by Samsung's corner-cutting such as on the Z105, as Samsung's first 3G phone - but which featured neither Bluetooth nor IrDA connectivity - and again here - we feel as though the combination of tradeoffs in the E710 are designed to keep the phone in a certain cost range.
Cost Notes
- Although the core chips are not coming from other Samsung divisions, we generally assume that Samsung attempts to leverage their vertical integration and use internal sources where possible. The assumption of using internal sourcing would apply typically to the display module (including surrounding devices such as the vibration motor, speaker, etc.) and battery packs (coming from Samsung SDI), PCBs and passive components (Samsung Electro-Mechanics - SEMC), Etc.
With the exception of the display module and battery pack, this internal sourcing is not specifically accounted for in our pricing assumptions, since we assume very aggressive high-volume pricing with most tier 1 manufacturers.
Major cost drivers
Display - This phone features a TFT internal display and OLED external - if you add up the cost of the two modules (referred to here as a single assembly) - and throw in the cost of the interconnect PCB - you end up with roughly $34 in display costs.
Memory content 256Mbit flash / 64 PSRAM (@~$20) is inline with other Samsung phones (such as SGH-E310).
Everything else appears to us to be rationally 'in-line' with other Samsung phones. No real stand-outs from a cost perspective.
Manufacturing Notes - Manufactured in Korea - we have assumed here that just about everything was made locally - including plastics / electro-mechanicals, board stuffing, and final assembly. We have used slightly higher labor assumptions than those we used in our last Samsung analysis (E100) - this is reflected in the total manufacturing costs.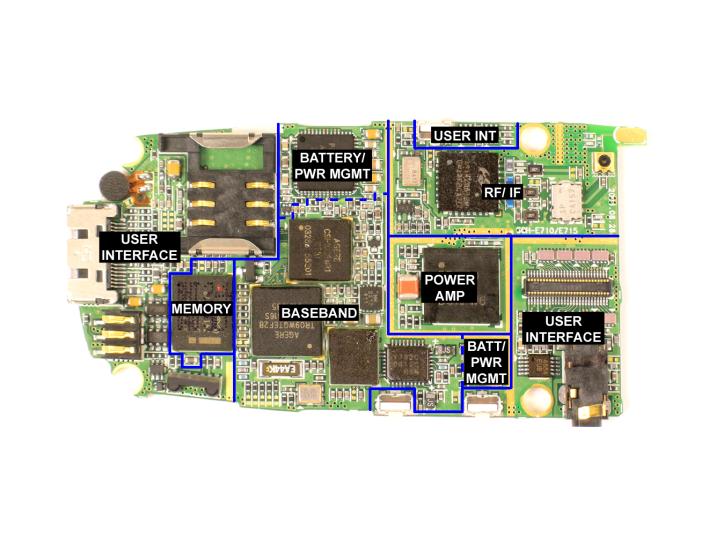 Design - The Samsung SGH-E710 is another Samsung common platform phone we have seen which shares a great deal of major component commonality with previously analyzed Samsung models such as the SGH-V200 and SGH-E310, Z105 and others.
The main printed circuit board has a reference to the board being common to both the SGH-E710 and E715 models.
Baseband - DBB/ABB - Agere chips - same as seen in SGH-E310 and V200 and probably a very common platform for Samsung across many models
Memory - 256 Mbit flash / 64Mbit PSRAM - Intel - Mid-range in terms of memory content - but no external memory
RF/PA - Silicon Labs / RF Micro Devices - Again - the choices here are fairly Samsung common (E310 / Z105) - design uses discrete SAW filters (EPCOS)
User Interface Chips - Yamaha sound chip (extremely common now), and Mtekvision - camera processor chip (seen in E310)