Main Features
Mid to high-end 3G UMTS 2100 / tri-band GSM/GPRS candybar camera phone with dual camera modules (2 MP and VGA), and also features a 1.9 inch 262K color 176 x 220 resolution screen. This phone also features Bluetooth 1.1, USB, a 'fair' amount of internal memory in an MCP - 512Mb Flash, 128Mb SDRAM, 1.8V, (not as much as previously seen in other phones, but expandable Memory Stick Micro™ (M2™) expansion slot. This phone is promoted as a "mobile music and video phone by SonyEricsson.
Overview
Primarily the focus feature of this phone is it's media and 3G feature-set (including the ever more common, for 3+G phones, at least - dual camera package for streaming chat, conferencing, etc.). This phone continues to push for greater song holding capacity - and far outstrips the initial contender, the Motorola ROKR. SonyEricsson are leveraging the Sony vs the Ericsson here with the media focus, and as usual, have a more functional and aesthetically pleasing final product than many competitors.
The internal design is similar, in the baseband and power management sections to previous SonyEricsson designs, such as the recently analyzed k510i, but in the RF section it is a photocopy of the recently analyzed Sharp 770SH (also an Ericsson Mobile Platforms 3G design).
Target Market
This phone specifically would have to focus primarily on those who intend to leverage the media and high speed 3G data transfer speeds in conjunction with Vodafone's subscription service. Given the newness of this technology and the focus on data rate - this would be focused on more niche, early-adopters, but is quickly becoming the mainstream. Vodafone and other service providers are only too happy to make this segment more mainstream as this promises to improve revenues through the offering of 3G oriented subscription services featuring paid downloading of streaming music and video channels.
Released
Per press releases - May 23, 2006 via Vodafone in Europe.
Pricing and Availability
Amazingly, despite a very rich features set, the phone cost, as offered, with subsidies from Vodafone is 0 with a 1-year or greater contract. We have seen lesser phones not so heavily subsidized.
Volume Estimations
UMTS/3G phones are not as new as HSDPA/3.5G phones on the market and have ramped significantly recently, based on our overall market assumptions, and SonyEricsson's market shares, model introductions, etc., we estimate a relatively healthy lifetime production volume of 2.4 million units for this model.
As a reminder, volume production assumptions are not meant to be necessarily 'market accurate', and our meant primarily to be used for our cost analysis in terms of amortized NRE and tooling costs, especially for custom components specific to the model being analyzed (mechanical components especially).
ISuppli's Design Forecast Tool (DFT) and Market Shares
As part of iSuppli's Design Forecast Tool (DFT), we forecast handset shipments by major design feature and manufacture, as well as the number of design starts a manufacturer will have by feature set. From our most recent revision of this tool iSuppli estimates shipments of 5.2M WCDMA 2100 tri-band GPRS (900/1800/1900) handsets in 2006 by SonyEricsson; with the introduction of 9 WCDMA 2100 GPRS tri-band (900/1800/1900) handsets in 2006 by SonyEricsson. Lifetime production estimates for handsets are based on the assumption of a 2-year life span.
Function / Performance
Functional testing was not performed on the SonyEricsson V630i.
Manufacturing Notes
Country of Origin / Volume Assumptions
This product is labeled as Made in China, furthermore, we have assumed that for the V630i, the PCB was also populated in China, and that custom mechanicals (plastics and metals) were also sourced domestically in China. Chargers and other box contents were not submitted for analysis - phone and battery only.
Country of origin assumptions relate directly to the associated cost of manufacturing, where calculated by iSuppli. In the cases of 'finished' sub-assemblies (such as chargers), we do not calculate internal manufacturing costs, but rather assess the market price of the finished product in which case country of origin assumptions may or may not have a direct effect on pricing.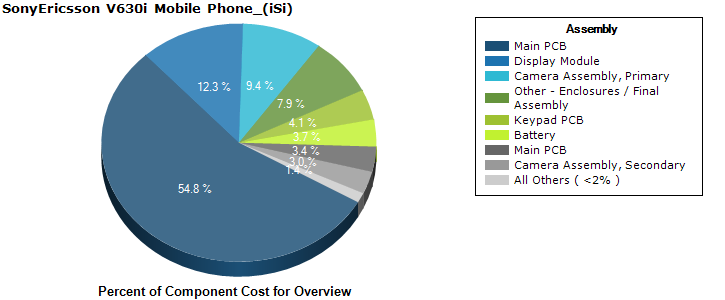 Design for Manufacturing / Device Complexity
The SonyEricsson V630i has a fairly middle of the range component count, considering the higher-end feature set. At a component count of 772, the V630i has more components than all other SonyEricsson models analyzed except the P900 (PDA/Smartphone) and Z600 (GPRS clamshell - circa 1994) which had a total counts of 984 and 854 components respectively. We have not analyzed SonyEricsson UMTS phones previously - making it hard to arrive at an 'apples-to-apples' comparison within the brand. The recently analyzed Sharp 770SH, however, is as close a competitor as we have currently analyzed (and also features an Ericsson Mobile Platforms 3G design) - and it featured greater complexity and component count - about 14% more - or 902 components - part of which is explainable by the difference in form factor.
At 105 mechanical components, this phone has about the same number of mechanical components as the previously analyzed SonyEricsson k750i. The only SonyEricsson phones with more mechanical components was the Z600 clamshell. Mechanically complex phones generally involve more hand assembly, and have longer manufacturing cycle times.
Component counts have a direct bearing on the overall manufacturing cycle times and costs, and also can increase or decrease overall yields and re-work. Our calculations of manufacturing costs factor counts and more qualitative complexities in the design. The cost of manufacturing is also, to some extent, decreased in this case because of assumed labor rate applied for China.
Note that manual labor has a much smaller effect on auto-insertion assembly lines (for the Main PCB, for example), where manufacturing costs are much more capital equipment intensive and driven by these investment costs.
Design notes
The SonyEricsson V630i shares a fair amount in common with previous SonyEricsson designs, especially the recently analyzed k510i, but also, with the more recently analyzed Sharp 770SH which uses Ericsson's 3G mobile platform. The RF section of the SonyEricsson V630i is a near carbon copy of those from the Sharp 770SH in terms of major component selection.
Here is a summary of the major components used in the SonyEricsson V630i design:
Main PCB
Baseband
DBB - Ericsson (Texas Instruments) - D761761B1Z - Digital Baseband
DBB - Ericsson (Texas Instruments) - D751980CIZ - Applications Processor
ABB - Texas Instruments - TWL93016FZQW - Analog Baseband / Power Management
Memory
MCP - 512Mb Flash, 128Mb SDRAM, 1.8V - ST Microelectronics - M39P0R9070E0ZAD
PAM
PAM - WCDMA, 1920MHz - 1980MHz - Skyworks - SKY77412
PAM - Tri-Band, GSM900/DCS1800/PCS1900 - Skyworks - SKY77334
RF Transceiver
RF Transceiver (GSM) - Philips - RF2001 - ZIF, Tri-Band GSM
RF Receiver - Philips - RF2111 - WCDMA
RF Transmitter - Philips - RF2101 - WCDMA
User Interface
ST Microelectronics - STLC2500A - Bluetooth - Single Chip, V1.1 & V1.2, 0.13um
Camera Module
Primary Camera Module
Primary Image Sensor
OmniVision - OV2640 - 2.0MP, CMOS, 1/4' Format - 2.20um x 2.20um Pixel Size, 3.59mm x 2.68mm Active Image Area
Secondary Camera Module
Secondary Image Sensor
Micron Technology - MT9V112 - VGA, CMOS, 1/6' Format - 3.60um x 3.60um Pixel Size, 2.30mm x 1.73mm Active Image Area
Display Module
Primary Display Module - 1.9' Diagonal, 262K Color TFT, 176 x 220 Pixels