Boosted by demand from unbranded, white-box Chinese manufacturers, global demand for tablet panels is exceeding expectations, spurring IHS to increase its 2013 forecast for displays.
A total of 262 million displays for tablets are forecast to be shipped in 2013, compared to the previous forecast of 246 million, according to the May Edition of the "LCD Industry Tracker—Tablet" report from IHS. This represents a 69-percent growth rate from 155 million in 2012.
"Competitive dynamics in the tablet market have changed dramatically this year as Chinese white-box smartphone makers have entered the tablet market in droves," said Ricky Park, senior manager for large-area displays at IHS.
These companies are producing massive quantities of low-end tablets that appeal to consumers in China and other developing economies, according to Park. Because of this, the white box manufacturers are driving up demand for tablet panels, particularly smaller displays using the older twisted nematic (TN) technology, rather than the newer screens using in-plane switching (IPS).
Unbranded tablet makers purchased 40 percent of tablet panels in April, up from just 17 percent in the first quarter of 2012. Partly because of the rise of white box makers, shipments of smaller 8- and 9-inch tablet display will rise by nearly 200 percent in 2013.
In contrast, larger displays in the 9-, 10- and 11-inch range will suffer a 5 percent decline.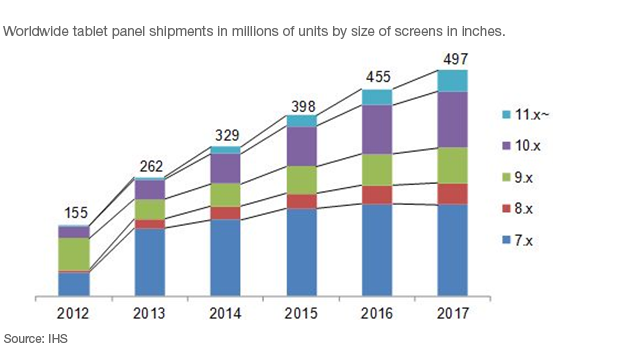 The boom in white-box tablets is being driven by the introduction of turnkey designs offered by processor makers. The designs make it easy for new, inexperienced market entrants to offer tablet products.
The Chinese white-box manufacturers hold certain advantages over the major incumbent tablet manufacturers. The white box manufacturers are able to produce tablets at lower cost, more quickly and with greater flexibility in production. These companies also have the capability to manufacture both unbranded tablets, and make products for the major brands as contract manufacturers.
These companies also have been agile enough to take advantage of the current high availability and low-cost of tablet panels. Makers of displays for the shrinking PC market have switched over to the tablet market, spurring a glut that has depressed pricing. As prices have fallen, the white-box makers have demonstrated enough flexibility to boost production of low-cost tablets.
The market for 10-inch and bigger tablet panels might begin to recover in shipments with the launch of the new Intel Atom microprocessor, code-named Bay Trail. This device could help reduce the cost of x86 microprocessor-based tablets and improve the battery life. Bay Trail also could generate opportunities for hybrid-form tablets that include keyboards.
The x86 tablets, with Microsoft Corp.'s new Windows 8 operating system, would have functionality better suited to the needs of the commercial and business worlds than either the Android- or the iOS-based tablets, which are designed with the consumer in mind.