Trane has introduced new air-cooled Sintesis eXcellent GVAF and water-cooled XStream eXcellent GVWF chillers with magnetic-bearing compressors and low global warming potential (GWP) refrigerant R1234ze. New high-speed centrifugal compressor technology is said to enable the chillers to offer larger capacities, wider operating maps matching the toughest European climate conditions, and increased seasonal efficiencies, all within a smaller size.
The updated air-cooled Sintesis eXcellent GVAF models offer capacities from 450 kW to 1600 kW with seasonal energy efficiency ratio (SEER) up to 6.5, which makes them suitable for hospitals, office buildings and industrial process applications. Additionally, these models are specifically designed for data center applications with capacity up to 1900 kW. Reliable cooling is delivered at even 48° C ambient temperatures, addressing the needs of customers facing extreme heat waves across Europe. GVAF XSS, the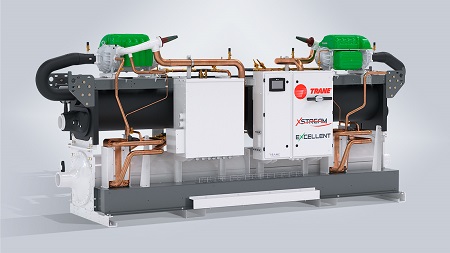 Source: Trane smaller version of the Sintesis eXcellent, is up to 3375 mm shorter than the standard frame of similar capacity, which makes it suited for replacement of old generation chillers or where more efficiency is needed within a smaller space.
The new water-cooled XStream eXcellent GVWF chillers benefit from the magnetic-bearing technology optimized for R-1234ze refrigerant, and now offer increased performance and cost effectiveness. The new GVWF XSE range delivers from 380 MW to 2.1 MW of capacity with SEER of up to 10 and enlarged operating map of up to 30° C evaporator-leaving water temperature, making it ideal for comfort cooling, data centers and industrial process applications.