Frost & Sullivan recently researched the building automation solutions (BAS) industry and, based on its analysis, recognizes Delta Controls with the 2022 North American Company of the Year Award. The company has been leading the industry for four decades, with a focus on innovation and sustainability. Its robust business framework emphasizes integrity, reliability, innovation, best practices implementation, and a positive track record of its products and partners. Delta Controls' history of innovation and user-oriented products, alongside creating the first and one of the industry's most highly regarded BACnet products, has empowered it to grow and maintain an exceptional partner network (over 400 distributors in over 80 countries) based on strict performance and service.

Delta Controls, a Delta Group Company, facilitates its partners with all repair, technical support, production, warranty, software, and firmware services performed at its North American facility. It serves clients across various industry verticals, including the original equipment manufacturer, original brand manufacturer, and original design manufacturer markets, and provides control solutions for commercial, healthcare, hospitality, education and leisure buildings. Delta Controls leverages cross-industry products, leadership, and market know-how to shine in the building automation industry.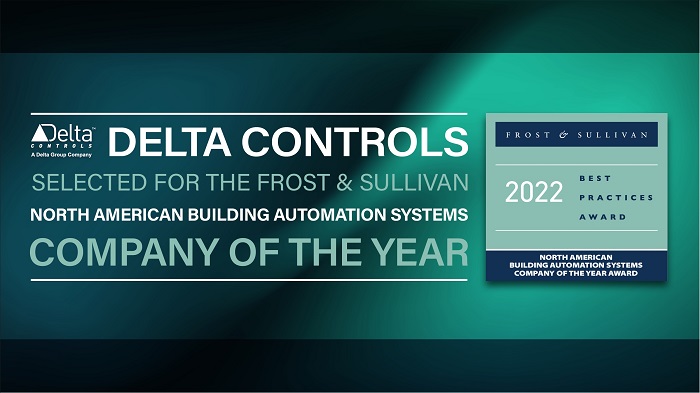 Delta Controls made a multi-million-dollar investment in new machines that are four times faster and accomplished a 150% increase in on-hand stock to minimize supply chain disruptions. It also magnified its research and development efforts to redesign products for better outcomes. The company offers game-changing technologies that enable clients to make their buildings smarter, more reliable, secure and cost-effective, differentiating Delta Controls and positioning it as a pioneer in the BAS market. Delta Controls persistently works toward improving on-time delivery to amplify customer experience and help clients make smarter buying decisions through its diligent customer service team.
Each year, Frost & Sullivan presents a Company of the Year award to the organization that demonstrates excellence in terms of growth strategy and implementation in its field. The award recognizes a high degree of innovation with products and technologies, and the resulting leadership in terms of customer value and market penetration.