Mobile Devices
TechInsights Teardown: SpaceX Starlink Internet Kit
16 December 2022
Starlink is a satellite system that can deliver internet coverage to areas that are under covered or have no coverage at all.
SpaceX has created Starlink to create a global broadband network using low Earth orbit (LEO) satellites for high-speed broadband services. The satellite transmits internet connection to systems on the ground using radio signals and vice versa using ground-based units
Starlink is one of several companies in the satellite internet market space including HughesNet, OneWeb, ViaSat and Amazon. Starlink could be used for everyday internet connectivity, but it could also be used in situations where internet has been disabled by either a natural disaster or other issue. Ukraine has been using Starlink since the early days of the war with Russia.
Last year, SpaceX released the Starlink Internet Kit that contained everything a user needed to get started using satellite coverage. It includes a satellite ground system, controller and cabling. The unit is powered by a dual core Cortex-A7 processor from MediaTek and memory from Micron Technology.
The following is a partial deep dive into the Starlink Internet Kit performed by TechInsights.
Summary
MediaTek 1.25 GHz dual core Cortex-A7
256 MB DDR3L SDRAM memory
No battery
Price: $599.00
Released: November 2021
Availability: Worldwide
Target market: Communications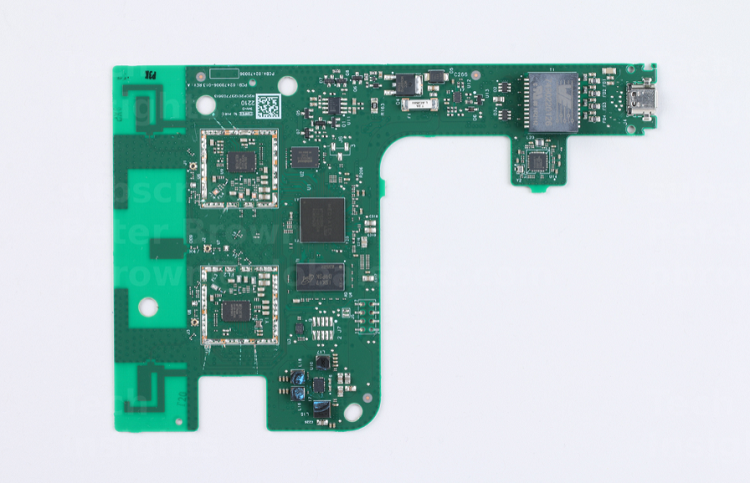 The main board of the Starlink Internet Kit includes the main processor and memory to operate the satellite broadband internet system. Source: TechInsights
Main board
The main board of the Starlink Internet Kit contains the electronic components needed to operate the internet system. This includes:
MediaTek's network processor
On Semiconductor's dual operational amplifier
Micron's DDRL SDRAM memory
ST Microelectronics' DC/DC converter
Silego's programmable mixed-signal array
Winbond's SLC NAND flash memory
Micro Commercial Components' P-channel MOSFET
(Learn more about memory semiconductors on Globalspec.com)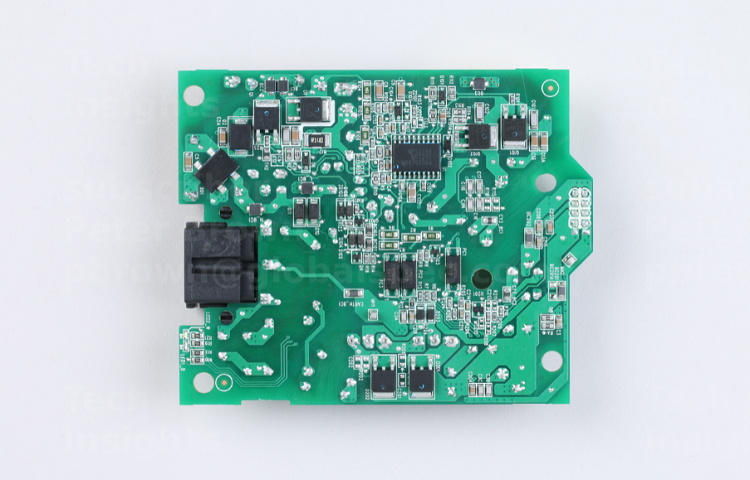 The power board of the SpaceX Satellite Internet Kit features the circuit protection electronic components and more. Source: TechInsights
Power board
The Starlink Internet Kit power board includes power MOSFETs from Infineon, multi-mode PFC and current mode LLC controller from MPS and a shunt regulator from Diodes Inc.
(Learn more about circuit protection devices on Globalspec.com)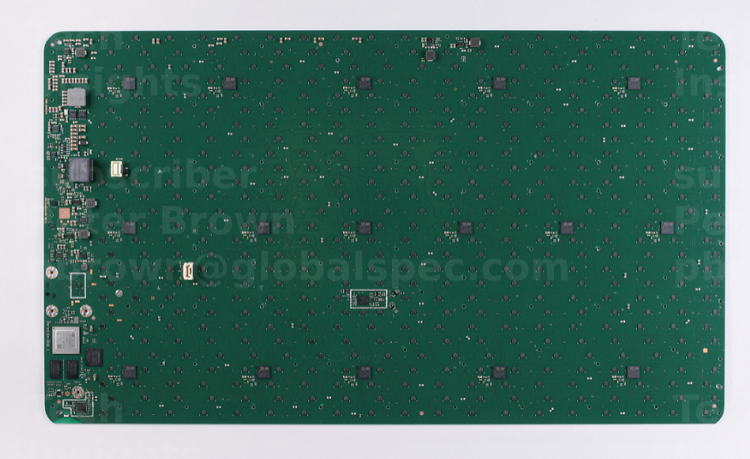 The antenna board contains a large sway of electronic components for operation of satellite internet broadband technologies with MEMS sensors, flash memory and much more. Source: TechInsights
Antenna board
The antenna board of the Starlink Internet Kit houses the main communication technology for the internet system including:
DDR3 DRAM and 4GB MLC NAND flash memory from Kingston
A satellite radio receiver from ST Microelectronics
Power management, step-down converters and termination regulators from MPS
Texas Instruments' DC/DC converter, shunt monitor and single rail-to-rail operational amplifier
Clock distribution and six-axis MEMS accelerometer and gyroscope from ST Microelectronics
On Semiconductor's 100V N-channel power MOSFET
Analog Devices' rail-to-rail amplifier and 300mA adjustable LDO regulator
(Learn more about MEMS on Globalspec.com)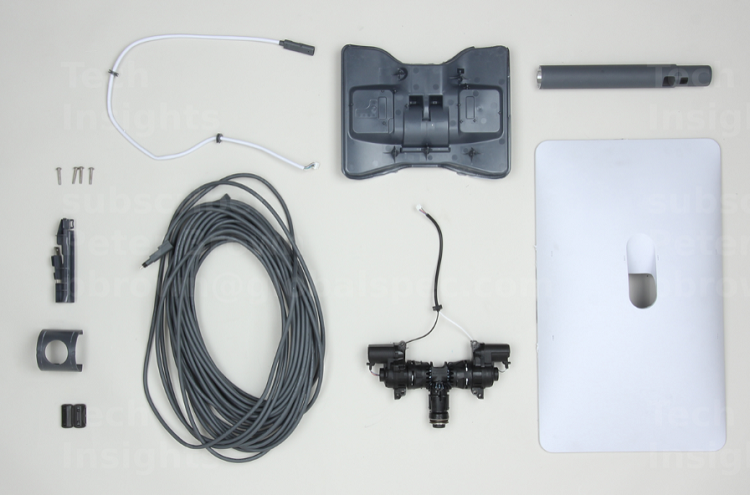 The teardown of the components found inside the Starlink Internet Kit. Source: TechInsights
Manufacturing cost breakdown
$334.58 — Integrated circuits
$67.25 — Modules, discretes and connectors
$60.77 — Non-electric parts
$47.11 — Substrates
$33.03 — Other subsystems
$21.39 — Component insertion
$13.34 — Card test
$9.42 — Final assembly and test

Find Free Electronics Datasheets