The automotive semiconductor shortage, brought on by supply chain issues due to COVID-19, made the fragility of the just-in-time supply chain painfully obvious, ultimately culminating in legislative action and a round of new investment aimed at diversifying risk in the system.
Fast forward to 2022, and the industry chatter around the health of the supply chain starts to feel mixed. From the economic perspective, the industry is now focused on inflation and high prices for raw inputs, which would naturally be driven by the shortages experienced throughout 2020 and 2021. From the purely electronics perspective, there is little sign of demand for semiconductors coming down and the extent to which sourcing becomes easier remains in question.
This article will briefly look at what different groups in the industry are saying about the state of the electronics supply chain. On the surface, it appears that the industry may be talking past each other, but the conversation around semiconductor availability reveals some important underlying expectations. The discussion also motivates an alternative approach to sourcing that addresses these periodic procurement challenges.
Will we ever see more semiconductors?
The industry expects the semiconductor supply chain to normalize eventually. The exact meaning of the word "eventually" depends on who you ask. Industry groups and external financial analysts have come up with a bevy of predictions as to when semiconductor supply can catch up to demand. Some of the calls that have come and gone include:
JP Morgan previously predicted greater supply and an end to the shortage in mid-to-late 2022.
IEEE Spectrum reported multiple analysts expecting shortages to turn over in late 2021.
KPMG reported that 56% of semiconductor industry leaders expect shortages into 2023.
ECIA reported sharp reduction in semiconductor sales trends in August 2022.
EMSNow, quoting EDDI data from Spectra, identified long-term decreasing demand in 2022.
Deloitte's 2022 semiconductor industry outlook predicted the shortage to be "less pronounced because of increased capacity."
IPC noted the demand slowdown and decreasing lead times in Q3 2022, with declining backlogs and continued lead time decreases expected by manufacturers.
Several other analysts and industry groups provide similar predictions and observations about supply and demand. To date, JP Morgan and the analysts referenced by IEEE have it wrong; they were calling ends to shortages too early and demand continued to show strength throughout 2022, even as the broader economic picture is called into question.
Closing the supply and demand gap
From all the data and predictions listed above, it's clear that tracking an increase in supply/decrease in demand is a moving target. Everyone agrees there is an imbalance, but when and how fast it ends is the topic of debate. Closure of supply-demand imbalance keeps getting pushed out farther and farther as the shortage persists and the demand side of the equation remains strong.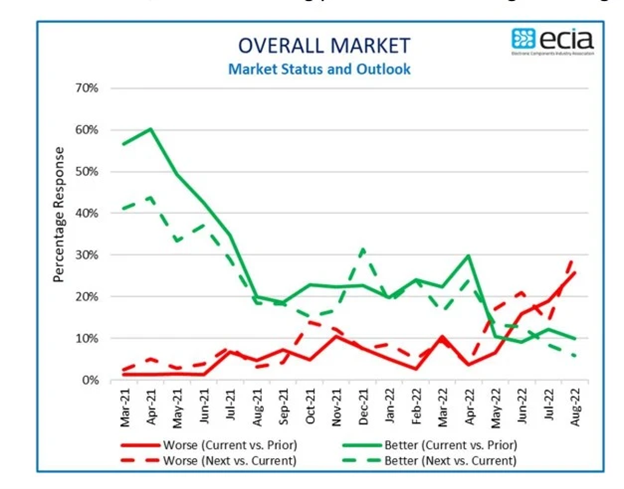 Market outlook for both the worse and better case scenarios in the supply chain. Source: ECIA There are two important takeaways: First, even as demand remains saturated in most component categories, inventories are increasing slowly; and, secondly, the gap is narrowing. Based on trends from the EDDI data noted above, a demand return to historical norms by late 2023, barring any major economic events, might be expected. Also, by drawing a trend, a surplus of semiconductors in early 2024, just at a time when new capacity comes online and economists predict a recession, might be expected.
While most of the data listed above is backward looking, the ECIA's Electronic Component Sales Trend Survey (ECST) provides a forward-looking view on the supply chain in terms of sentiment. Their August 2022 survey results show the number of respondents indicating lower expected sales next year increased significantly in Q2 2022. Even as the industry fights to get new capacity online, distributors are expecting negative growth in sales.
In the long term, it is expected that supply and demand will follow close to each other in 2023. In the short run, the sourcing situation is still difficult, and companies should take a proactive approach to sourcing components for their products.
It's all about just-in-case
The common theme throughout the above discussion boils down to one word: uncertainty. The inability of the just-in-time supply chain to adapt to major global shocks and the long-term fallout has led to plenty of uncertainty in the long-term sourcing environment. To deal with these challenges, companies are taking a less-than-lean approach to sourcing and production with a just-in-case supply chain management strategy.
A just-in-case strategy to supply chain management is simple: it's an acceptance that the just-in-time model may not deliver the raw inputs required in a reasonable timeframe. There is a growing acceptance among EMS providers and OEMs that sourcing should happen early in the production process, that the most at-risk parts should be held in inventory, and that buyers should move away from sole-sourcing agreements.
Learn to identify at-risk components as early as possible
For each at-risk component, identify replacements
When an at-risk component has no compatible replacements, consider a totally different part
Identify multiple sources for critical parts and devise a buying process
Order batches early in anticipation of prototyping and production runs
Once Step #6 is reached, it's time to start holding inventory again. Given the mixed language even from experts, the safest path forward is one that ensures inventory is accessible.