One of the biggest recent trends in the mobile telecommunications space is the push for standardization in the radio access networks (RANs) that create the foundation for connectivity between individual devices and a core backbone.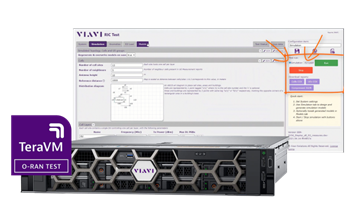 Illustration of the TeraVM RIC Test, one component of the Open RAN "testbed as a service" approach recently announced as a collaboration between VIAVI and VMware. Source: VIAVI Solutions Inc.Over the past four decades, RANs have evolved from a first-generation (1G) design using analog radios and wireless technology to a fifth generation (5G) that divides the user plane and control plane into separate elements, enabling greater flexibility and network virtualization. That flexibility is limited, however, by a lack of standards for interoperability; this has locked telecom companies and enterprises into having to deal with a single vendor, limiting competition for individual RAN elements and keeping prices high.
The Open RAN concept, which is currently being worked on by groups such as the O-RAN Alliance, represents a new approach. It virtualizes parts of the cellular network traditionally handled by specialized hardware and software and enabling service providers to use nonproprietary subcomponents from a variety of vendors.
Much like the railways
One might draw an analogy here to the evolution of railway track in 19th-century America: As described by the informative site the Transcontinental Railroad, railroads were planned to serve cities and their surrounding areas with little thought given to the notion that the networks would eventually meet. A major stumbling block to interoperability was that different selections of rail gauge — the space between the rails that formed the track — were made based on factors like historical precedent, marketing forces or simply the inclination of the engineer in charge. (Sound familiar?)
By the 1870s, there were over 20 different gauges in use in the U.S. As railways proliferated and travel expanded, it became clear that a solution was needed; after a number of faltering attempts with limited utility — designing cars that could travel on multiple gauges, adding additional rails to accommodate trains with different gauges and so on — it became evident that standardization of rail gauge was essential.
Standards push
This brief history lesson about railroads underscores the value of the Open RAN vision to telecommunications. The push for standardization has been reflected in collaborations having Open RAN as a central theme: Mobile technology developer Qualcomm and telecommunications company Vodafone, for example, recently announced a partnership to test and develop 5G Open RAN Infrastructure solutions, to be unveiled at MWC Barcelona in early 2023. Vodafone has also opened an R&D center dedicated to advancing Open RAN chip design.
New testing strategies have also been developed. Test and measurement manufacturer VIAVI Solutions Inc. recently announced a partnership with cloud services provider VMware to drive standardized frameworks and metrics for testing a RAN Intelligent Controller (RIC), one of the key elements to managing 5G network functions. The two companies have taken a "testbed as a service" approach to enable mobile operators to introduce programmability to the RAN and help accelerate the adoption of Open RAN. The joint testbed will enable testing, profiling and validation of third-party applications that can reduce time and allow faster transitions from labs to production environments.
It seems clear the Open RAN is the wave of the future, enabling the evolution of 5G and beyond, and testing strategies will undoubtedly evolve alongside it.