A group of researchers used airborne lidar technology for the first time in the Amazon region, discovering two lost cities under the Earth.
Researchers from German Archaeological Institute, the University of Exeter and the University of Bonn worked with ArcTron3 to attach a lidar to a helicopter, small aircraft and drone transmitting 1.5 million laser pulses per second.
The team mapped a total of 200 square kilometers of the Casarabe cultural area in the Amazon, finding two large sites of 147 hectares and 315 hectares in a dense four-tiered settlement system. The lidar was able to digitally remove the vegetation and created a digital model of the Earth's surface, which could be displayed as a 3D image.
"The first results were excellent and showed how effective the technology was even in dense rainforest," said Heiko Prümers, researcher from the German Archaeological Institute. "From that moment on, the desire arose to map the large settlements of the Casarabe culture using lidar technology."
Before lidar was used
More than 20 years ago, initial research conducted by Prümers and Carla Jaimes Betancourt, professor at the University of Bonn, found two mounts near the village of Casarabe in Bolivia.
Next to the mounds were traces that included causeways and canals that often lead for kilometers in a dead straight line across the savannahs. The researchers found that the Casarabe culture and the nearby village extended around 16,000 square kilometers and the mounds were identified as eroded pyramid stumps and platform buildings.
"However, the dense vegetation under which these settlements were located prevented us from seeing the structural details of the monumental mounds and their surroundings," Betancourt said.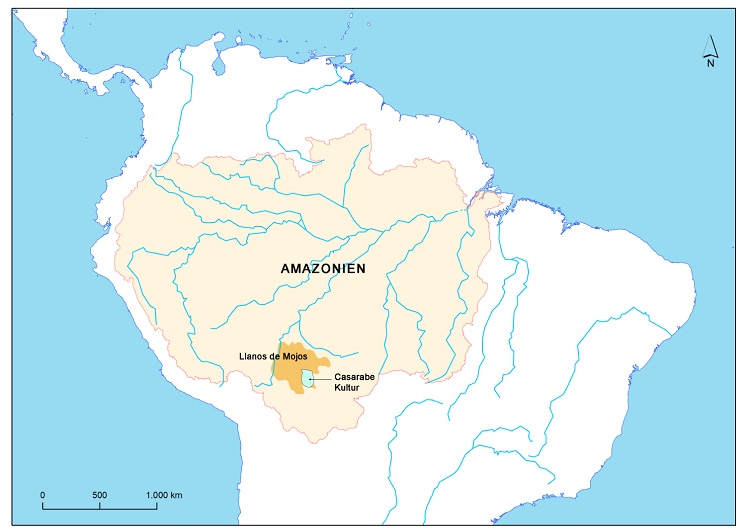 Map of the Lianos de Mojos savannah and the Casarabe Culture area found via lidar by researchers. Source: University of Bonn
Altered landscape
Lidar mapping revealed large squares in the settlement with stepped platforms topped by u-shaped structures, rectangular platform mounds and conical pyramids. Paths and canals connect the settlements and indicate a social fabric with at least one other settlement that could be found within five kilometers of each of the settlements known today.
"So the entire region was densely settled, a pattern that overturns all previous ideas," Betancourt said.
While lidar can identify areas in the Earth not previously known, the archaeological work is just beginning and the researchers plan to understand how these larger regional centers functioned in the Amazon.
The research shows that lidar has become a tool for documenting archaeological sites but can also be used in planning and preserving cultural heritage of these areas as well.