The first fully integrated system that combines atomic force microscope (AFM) with white light interferometry (WLI) profilometry has been developed by South Korea-based Park Systems. WLI is a nondestructive, non-contact, optical technique used to generate 2D and 3D models of surfaces widely used for semiconductor production quality assurance.
The Park NX-Hybrid WLI is a powerful semiconductor metrology tool that incorporates the best of AFM and WLI technologies into one seamless system. The Park AFM in the integrated system is based on Park NX-Wafer, an automated atomic force microscopy system for semiconductor and related devices, manufacturing in-line quality assurance and research and development. The combined AFM/WLI system provides high throughput imaging over a very large area with the WLI module, and nanoscale metrology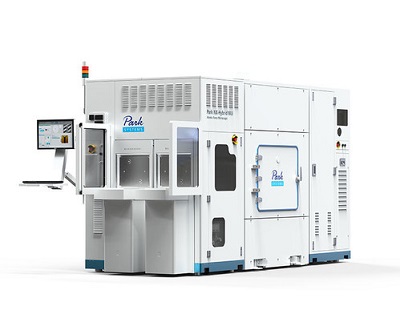 Source: Park Systemswith sub-angstrom height resolution over the areas of interest using AFM. Defects of a patterned structure can be detected by comparing images of reference and target sample areas using high speed "hot spot detection," a technique enabled by fast localization for defect sites for high resolution AFM review.
The Park WLI module supports both WLI and phase shifting interferometry (PSI) modes. The PSI mode is enabled with a motorized filter changer and the two objective lenses can be replaced automatically by the motorized lens and supports objective lens magnification of 2.5 times, 10 times, 20 times, 50 times and features a 100 times complementary metal-oxide-semiconductor camera.
Park NX-Hybrid WLI was developed for use in applications requiring much higher resolution and accuracy beyond the capability of WLI alone, such as advanced chemical mechanical polishing metrology and monitoring, dishing, erosion and edge-over-erosion, film thickness, pillar height, hole structure and die to die comparison. It will also be useful in advanced packaging applications including through-silicon via and micro bump measurement redistributed layer measurement and photo resist residue detection.