One of the more interesting aspects of the 5G expansion is the need for signal boosters to help expand coverage in cities where signals may be spotty given the lack of installed infrastructure.
This is particularly useful when it comes to millimeter wave (mmWave) technology where the signals have difficulty penetrating objects such as walls, trees or vehicles, which are commonly found in major cities. With mmWave soon to be the standard for 5G in the future, the need for signal boosters will be critical for businesses and homes that will use 5G in offices and for fixed wireless access inside homes.
These signal boosters will also help in expanding coverage in cities in general as well as help to meet coverage requirements for smaller towns and rural areas where few base stations may exist.
Hongtao Zhan, CEO of Surecall, one of the largest makers of 5G signal boosters, sat down with Electronics360 to discuss the role of signal boosters in the 5G market and what to expect from 5G in the future.
What can we expect from 5G for the remainder of the year?
Hongtao Zhan: This year, 5G will be all about network buildout and providing coverage to everyone throughout all of the bands. You'll see true mmWave 5G in urban centers, as well as 5G expanding into more suburban and rural areas as it becomes a more widely adopted network system. In addition, we are going to see improvements and changes on not only high bandwidth options but low and mid-band as well. Those in urban areas in larger metropolitan areas can expect to see high-speed 5G on a regular basis and will begin to integrate it into their daily lives. That being said, outside of home and phone capabilities, if you have access to seamless connectivity with 5G opens the doors to virtually limitless possibilities for consumers and businesses alike.
Are we seeing more coverage areas in cities than before where it was limited to just certain segments?
Zhan: If you look at a company like Verizon, who has its Ultra-Wide Band mmWave network in more than 70 major markets today, and is aggressively going into even more markets, I will say that we are definitely seeing more coverage areas in cities. In addition, SureCall plays a big role in this deployment and coverage. By working with carriers and select partners on customizing their 5G mmWave with network signal booster solutions like the SureCall Horizon, which overcome the natural 5G signal propagation challenges, we're helping bring 5G technology to more and more consumers across the country.
The COVID-19 pandemic did not seem to impact the deployment of 5G services. How did 2020 lay the groundwork for 5G in 2021?
Zhan: The COVID-19 pandemic only accelerated the demand for 5G. With the impact of things like the "Work from Home" movement, the amount of bandwidth that was being consumed, data speeds needed, and increased network support, made it necessary to swiftly move the buildout along so that people could do their jobs. This resulted in the major carriers needing more capacity and network capability. This was always a problem that was going to need to be addressed, but the pandemic accelerated these issues in a big way.
What do you see as the future of 5G?
Zhan: Plain and simple, mmWave is the future of 5G. Ultimately everything must go mmWave. With internet usage increasing YoY, without a slow down any time soon, the demand for 5G is going to continue to rise. That being said, 5G will provide users with a great quality of service because of its huge bandwidth, which will help improve user experiences both in the consumer and business space as it can handle the amount of traffic that is migrating to our cell phones and other cellular devices. It will enable technologies and connections that we could have only dreamed of a few short years ago.
How important is 5G millimeter wave (mmWave) to this future?
Zhan: Everything will have to go to mmWave eventually because there's only so much spectrum available. Companies and suppliers will begin to fill up other bands and in order to be able to handle the type of user capacity and demand that we've been experiencing, carriers will have to go to mmWave, it's just a matter of time and proper network buildout.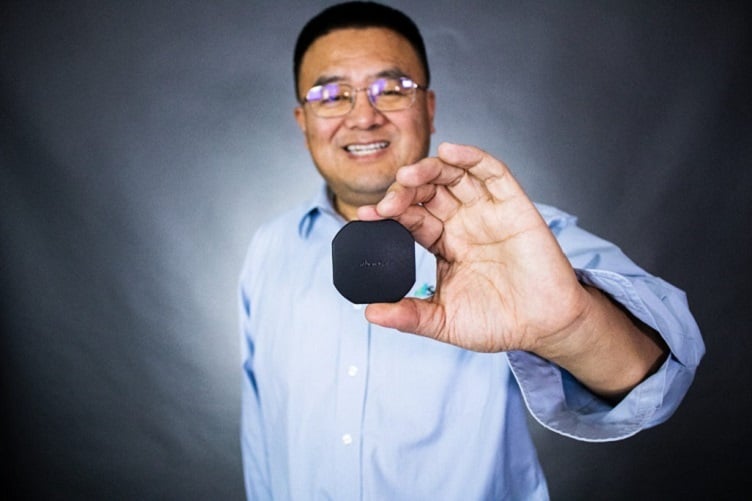 SureCall CEO Hongtao Zhan holds a 5G signal booster. Source: SureCall
Are we going to continue to see 5G limited to smartphones or are we going to see some of these 5G experiments start to emerge where the wireless generation becomes important in robotics, emergency services, industrial IoT and more?
Zhan: Seamless connectivity and virtually unlimited network capacity no matter where you are is the future. The most noticeable immediate difference will be the faster download speeds and shortened latency times. However, the exciting part of 5G is the whole new world of innovation and connection it will enable, truly becoming a platform for innovation and invention. Exciting changes across industries are imminent as cellular technology improves and the network evolves. IoT is sure to expand significantly, and many aspects of our day to day lives will be integrated with the digital realm.
Where do signal boosters fit into this future of 5G both in terms of smartphones as well as office and indoor coverage?
Zhan: In order to ensure that you're able to get true 5G, signal boosters are needed everywhere. They will work to augment the macro network with network signal boosters like our Horizon, and are needed in our homes and offices too, to be able to get coverage where it's needed to the users. Although you have tons of bandwidth, there are also obstructions everywhere, which causes a hindrance when trying to get coverage where you need it. That's where boosters come into play. Boosters are there to augment and balance out your connectivity. That's what we do here at SureCall. We balance, we get users coverage where it's needed in order for users to use their 5G to its full capacity.
Recently, SureCall signed an agreement with Verizon to deploy repeaters to 5G home, business and mobility. Why is this important?
Zhan: Carriers recognize that they need solutions like network boosters when implementing 5G, in order to augment the coverage, and get the coverage where it's needed. Boosters are cost-effective, don't need fiber and can even use solar to power. So, when you look at all of those elements, this gives carriers so much more flexibility, lower costs and helps solve the coverage challenge.
How do signal boosters help with wireless coverage for smart home devices?
Zhan: With many businesses and homes using IoT technologies to perform their day-to-day operations, the demand for fast, always-on IoT cellular connectivity is more important than ever. And boosters are needed in order to allow users to bring 5G inside. Since boosters can provide data speeds that are faster and provide a lower latency, that means users' smart home devices will be more responsive. In addition, boosters are able to connect to multiple devices simultaneously, so users can connect and monitor more devices at once. Weak or spotty cellular connection can affect the speed of users' smart home devices like security, warning devices and more. This is where cell signal boosting technology plays a pivotal role.
How will 5G impact vehicle connectivity and where do repeaters fit into this segment?
Zhan: The modern automobile is quickly becoming a mobile IoT device, including vehicle location, activity, analyzing driver behavior and even engine diagnostics. But what many consumers don't know is that most of these features in their vehicle use cellular, and even 5G technology. Just as with any other type of application, whether it be a home or a building, a vehicle also has a large number of obstructions, which leads to blocking its cellular signal. As the need for mmWave expands and becomes more popular, the need for a booster in vehicles will also continue to grow. This will ensure all of your vehicle's capabilities can operate with more constant, reliable and stronger connectivity.