As time passes, our modern world is becoming more and more dependent on battery power and storage. This new electrified world is expected to consume up to and above 10 terawatt hours (TWh) of battery use annually by 2030. In 2021, we use about 0.5 TWh. Due to these projections, there is concern about whether the raw materials are available to satisfy this demand. Batteries made from lithium-ion (Li-ion) technology have been the main technology in recent times (and will be for the future), and include nickel and cobalt, supplies of which are suffering from extreme limitations worldwide.
Scientists at U.S. Berkeley National Laboratory have made progress in creating battery cathodes that use a new material providing similar if not more energy than regular Li-ion batteries. The main difference with this new type of battery is that it can be manufactured with abundant and inexpensive materials. Disordered rocksalts with excess lithium (also known as DRX), is the new class of materials recently synthesized, which also enable construction of cathodes without cobalt or nickel.
This reduces the reliance on critical minerals going forward, and also minimizes the risk of supply-chain issues. With the integration and eventual take over of DRX materials, it gives lithium batteries a new platform as the main type of sustainable battery to be used for many years to come.
What is a cathode composed of?
A battery is made-up of two electrodes, and a cathode is one of them. The cathode also makes up more than a third of the price of constructing a battery. The materials currently used in a cathode within Li-ion batteries are nickel, manganese and cobalt (NMC). The nickel and cobalt materials combine with the inactive manganese component, which limits the performance of Li-ion batteries at the moment. The only way to achieve greater performance from these batteries is to utilize alternative materials, such as the previously mentioned DRX materials. They have significant flexibility in composition and allow the use of many abundant materials in its construction. This gives these materials some very powerful attributes, one of them being that any class of metal can be used to repair any issue that can occur.
Why not keep using nickel and cobalt?
It has become a priority for the U.S. Department of Energy (DOE) to reduce cobalt use in the production of batteries as much as possible. When existing resources are evaluated at just 2 TWh, global production of nickel would be totally consumed, and the current production of cobalt would not even come close to satisfying the demand. Satisfying a production output of 2 TWh would require around 2,000 kilotons of cobalt and nickel, and today's production of cobalt is around 150 kilotons. It is not feasible to increase the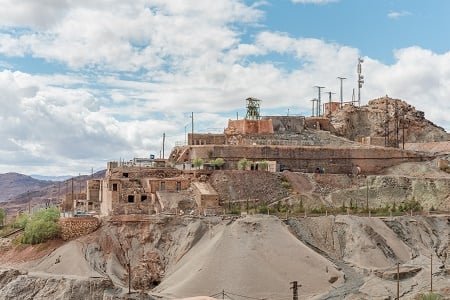 Cobalt mines, such as this one in Bou-Azzer, Morocco, cannot keep up with the rising demand for cobalt in the energy industry. Source: cornfield/Adobe Stock production of cobalt by that amount.
Furthermore, more than two-thirds of the world's nickel supply is being used to create stainless steel. Over 50% of the global cobalt supply is produced in the Democratic Republic of Congo. Australia, Russia, Cuba, and the Philippines are also main cobalt producers.
In contrast to this, cathodes created from DRX can avail of pretty much all metals in place of cobalt and nickel. Titanium and manganese are being pursued as alternative materials as these metals are more plentiful and cheaper that cobalt and nickel. Titanium oxide and manganese oxide both cost under $1/kg, where nickel costs $18, and cobalt comes in at a whopping $45/kg!
DRX gives the opportunity to create very inexpensive battery power, and when Li-ion batteries reach this point, there will be no competition between Li-ion and any other battery type on the market. It will also have a knock-on effect across other industries as battery power will become cheaper for the automotive industry and other sectors.
Quick progress in a slow market
Whereas in the past new materials for battery creation have taken 15 or even 20 years to bring to market, DRX materials are expected to progress at a much faster rate. The last three years have seen some great progress with a larger team now being needed to involve specialists and their diverse skills, in order to keep this new technology on its trajectory to commercialization.
This new bigger team would also help to address the few remaining issues that are being experienced with the batteries, including optimizing the electrolyte, which is the medium that gives the electrical charge a path from the cathode to the anode and increases cycle life. The cycle life is the amount of times that a battery can be recharged before it becomes unusable. Many new DRX research programs have also been launched across Japan and Europe in the last couple of years.
Consistent new breakthroughs will be needed in the fundamental science of materials in order to keep advancing new battery technology. DRX is made up of so many variable elements, researchers will have to use some trial and error to ensure that they are using the best materials possible, while also hitting a happy medium of abundancy, performance and price. As DRX has so much flexibility, the entire periodic table has to be considered when constructing the material. This will determine how fast the battery charges and the stability of the material, both of which are vital characteristics of a high-performance battery and will help to create a battery that will solve many real-world issues.
Do you think this new class of materials that will be used to create cathodes will make a significant difference to the price and performance of existing lithium-ion batteries? Are there any drawbacks to the adaption of the DRX materials, or any viable competitors that you think could compete with these new batteries? Engineering360 would love to hear your thoughts and ideas in the comments below.