Developing battery packs for automotive and industrial applications is challenging work, involving high voltages and currents, electrical and mechanical components, and systems for cooling and battery management.
All components require thorough testing that enables engineers to draw conclusions about the pack's durability, efficiency and range; safety requirements in all operating modes must also be taken into consideration. The testing process typically requires vast labs with multiple test channels, straining the limits of both space and power.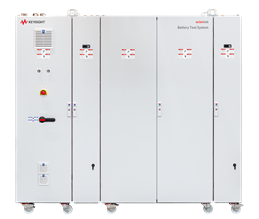 The Scienlab SL1700A Series is a pack-level battery test system that utilizes new high-voltage SiC technology to provide high power in a small footprint. Source: Keysight Technologies Inc. Keysight Technologies, a provider of advanced design and validation solutions headquartered in Santa Rosa, California, has launched what it calls a "next generation" battery pack test system. The Scienlab SL1700A series utilizes new high-voltage silicon carbide (SiC) technology that, according to Keysight, allows the system to achieve higher efficiency and energy recovery capabilities, providing high power in a small footprint and enabling a reduction of overall lab costs.
The new system can test battery packs with voltages ranging from 50 to 1,500 V. Power options for system configuration range between 90 and 270 kW, and current options range between 300 and 900 A. The system is also modular and upgradable to address future power needs.
Key features of the Scienlab SL1700A include:
Small footprint to deliver high power and more output in a reduced space.
High energy recovery capabilities, reducing energy consumption and lowering lab running costs.
Synchronized control of all components in the test environment, including climate chamber, conditioning of the device under test (DUT) and battery management system (BMS).
Recorded measured values to use as a variable during the remainder of the test sequence.
Direct evaluation of data using practical analysis tools, eliminating the need for post-processing.
In addition, typical tests can be carried out on the pack as a complete system, including the analysis and validation of:
Interaction of all components involved and their mutual impact
Internal communication of all electrical and mechanical components
External communication
Thermal and electrical reactions of the battery pack and thermal management
Various test scenarios can be implemented, such as dynamic, electrical and climatic stress tests, operational cycle tests, standard tests, endurance tests or calendar and life-cycle aging tests.
The SL1700A series is part of Keysight's Scienlab Battery Test Solutions portfolio, which includes battery test systems, test and workflow optimization software, along with the company's global service and support. For more information, visit the company's Battery Test Systems landing page.