For years, with the help of computing technology, many scientific and engineering groups have been working diligently to create a more comfortable lifestyle for people with disabilities.

Patients with mobility impairments now have technology that allows them to operate a keyboard without using their hands, the visually impaired community has access to speech output systems that allow for more computer functionality, and even those with learning disabilities can use educational software that provides multi-sensory experiences. All of this technology aims to make life a little bit easier for those who have difficulty with simple tasks.

Brain-computer interface (BCI) technology is a versatile and up-and-coming technology that allows computers to communicate directly with the brain. One popular example of BCI that many are familiar with is the electroencephalograph (EEG) device, which measures electrical activity in the brain using a non-invasive method, and then translates the neural impulses of the brain into commands sent to a machine so that different tasks can be carried out.

The technology provides an alternative route from brain to action, which can be of great use to people with disabilities, allowing them to bypass the system that a non-disabled person would normally use to interact with his or her environment and carry out previously unachievable tasks.

A start-up company called Neurable is working to develop next-generation BCI technologies that allow for real-time control of devices using thoughts – for example, moving a wheelchair or car, by simply thinking about it.

The company is currently using a non-invasive headset that can be configured quickly and employs brain-signal processing algorithms.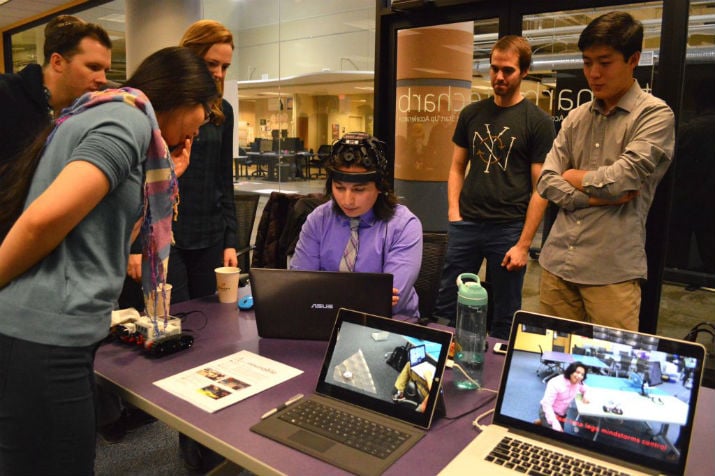 The Neurable team shows off its prototype wearable device. (Image Credit: Neurable)The company is the result of electrical engineer Ramses Alcaide's Ph.D. work at the University of Michigan. During the course of his research at the university, Alcaide worked to develop BCI technology for amputees, children with cerebral palsy, and those with amyotrophic lateral sclerosis.

"The passion to do this came to me when I was 8 years old and my uncle got into a truck accident, losing both his legs. Although at the time I did not know how to create the tools to help him. At that moment I decided to dedicate my life to creating technology to allow people with disabilities to live without limitations," said Alcaide.

As CEO of Neurable, Alcaide aims to mass produce the wearable technology and transform the lives of people with disabilities. His company currently has five employees on board, working to develop the marketable prototype.

The initial technology behind the device was developed in the University of Michigan's Direct Brain Interface Laboratory which focuses on developing medical applications that can improve the quality of life for those who are severely impaired.

So far, Neurable's BCI has been tested on over 190 people, 60 of whom suffered from motor impairments. Back in 2014, the lab demonstrated its technological developments on the Discovery Channel.

How It Works

Neurable's BCI works by sending any kind of stimulus – audio, visual, or vibrotactile, to name a few – in order to activate brain activity. That stimulus is what gets the device to interpret user intention and permits device control.

Now that the technology has been proven functional for a few years, Neurable is creating a wearable that lets users control devices with their brains, along with a fully immersive virtual reality headset.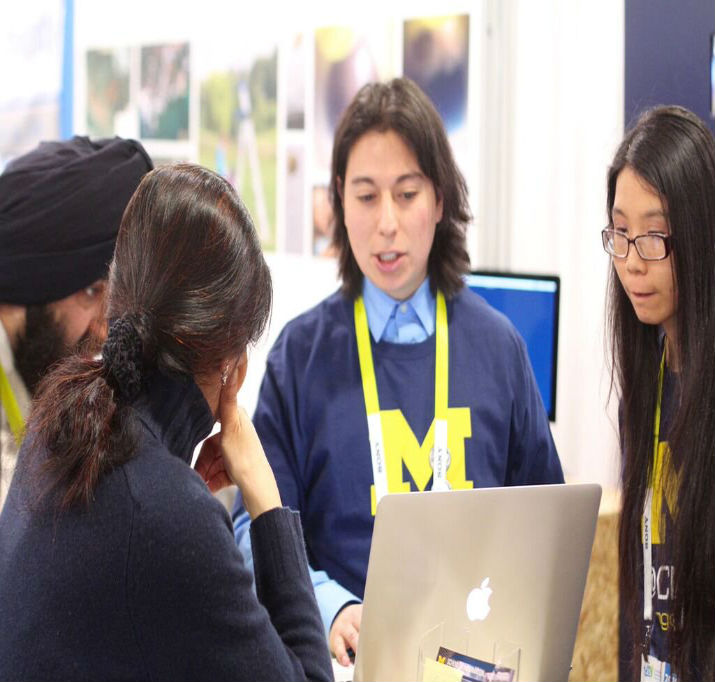 Neurable made an appearance at this year's Consumer Electronics Show. (Image Credit: Neurable)"Neurable's technology represents the next step forward in virtual reality (VR) and augmented reality (AR) by connecting your mind to these worlds. Companies like Oculus and Sony are building immersive VR experiences and games, but these experiences have challenges in movement and limited ways of interacting. Neurable changes all this by putting your mind into VR/AR," said Alcaide.

Many groups have been working on non-invasive brain technology, but so far its capabilities have been somewhat limited. Anything remotely close to being functional and diverse tends to be too expensive, invasive, or takes a long time to learn how to use.

According to Neurable, its technology has "demonstrated significantly greater accuracy (98% versus 50 to 70%), faster response speed (500 milliseconds versus 1 minute or more), lower cost ($300 to $500 versus $800 to $20,000) and has a shorter setup time (5 minutes versus 30 minutes) compared to eye trackers and competing non-invasive BCIs."

Although it's still a distant goal, Alcaide envisions Neurable's BCI allowing the disabled to drive cars, control televisions, computers, smartphones, and explore virtual reality environments entirely with their thoughts